Polperro Online Guide | Polperro Cornwall
Polperro
Online guide to Polperro - East Cornwall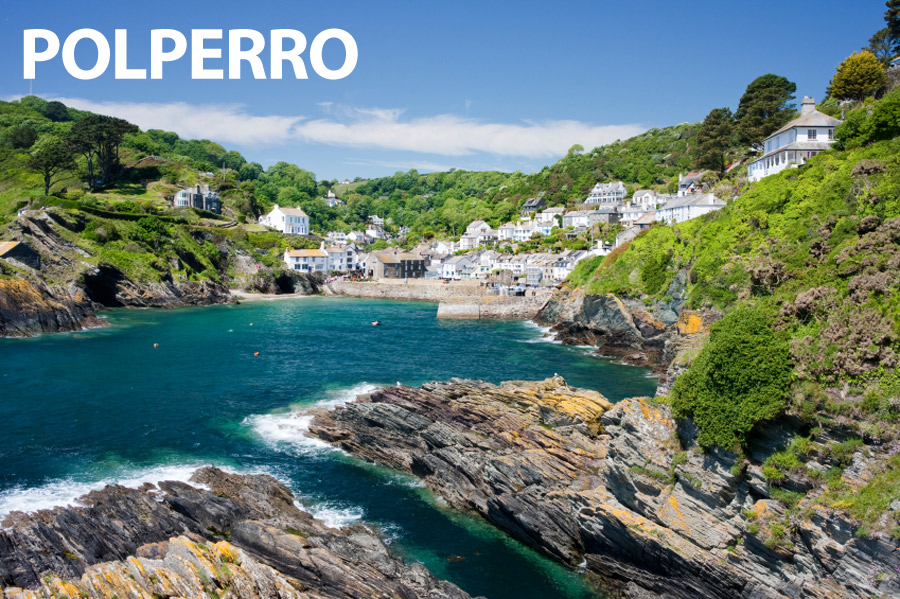 Polperro Cornwall
POLPERRO - SOUTH EAST CORNWALL
Polperro, lies just a few spectacular miles along the coast from Looe. Sheltered from the ravages of time and tide in its cliff ravine, it's an enchanting jumble of cottages, each one unmistakably the work of a Cornish fisherman.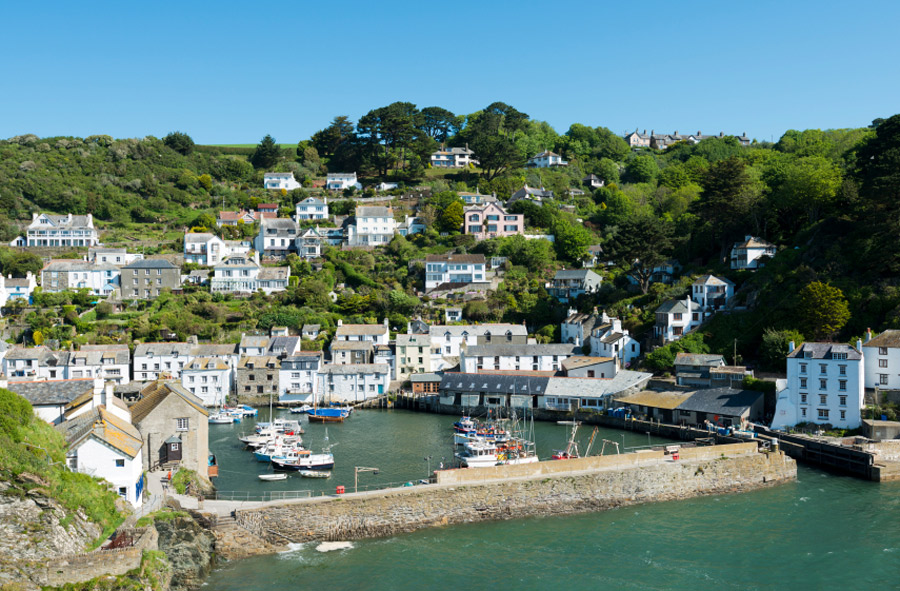 Polperro
What he wanted was a place on shore to store his gear and his pilchard catch, and over that a loft divided into rooms like the cuddy of his boat. He reached the ground by means of stone or wooden steps, like a ship's gangway. You see, his idea of a dwelling was that of a ship in stone. And there's a fleet of them at anchor in Polperro.
Wending your way through the traffic-free streets to the small harbour, you're treading the paths where barrows of fish were once carted and, under cover of night, brandy casks and tobacco bales were carried into their hideouts. Make no mistake, this peaceful fishing cove, mellow Polperro, was once a thriving centre for the area's smuggling.
Wagonloads of contraband left here, some heading across Bodmin Moor en route to London. The 'freetraders' have long since sailed into folk history and the shining shoals of pilchards have gone, but a visit to the smuggling museum brings this rich heritage back to life.
Today, in cellars where furtive smugglers once dodged the customs men's muskets, you can see displays of local crafts and fishermen's smocks, or you can dine in style at one of Polperro's excellent restaurants.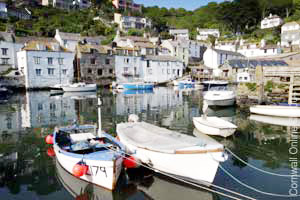 Boats in Polperro Harbour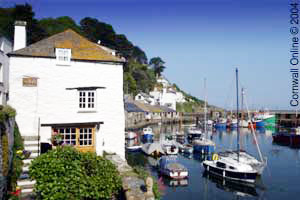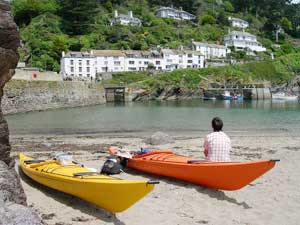 Polperro Beach adjacent to Harbour wall
NB ALL map locations are approximate - please verify location with the owner prior to booking - Map not displaying in IE? try the F5 key
Polperro Beach - Chapel Rock Tidal Pool
Polperro has a small sandy beach located just outside the main breakwater. The beach is in front of Willy Wilcox cave, believed to have been used by smugglers. There is a small walkway across the beach, used at low tide, to convey holiday makers to the frequent boat trips that leave Polperro's small inlet.
Polperro also has a tidal sea pool, located on the seaward side of Chapel Rock, which guards the Western entrance to Polperro harbour. Chapel Pool (built in the 1940s) and Polperro Beach have been popular with both holiday makers and local children for generations.
The South facing tidal pool is accessible from about half tide, but there is a steep climb down the cliff to reach it. There are steps cut into the cliff, but caution is advised.
Pulling into Polperro from the sea is an unforgettable experience, especially when you've caught a basket full of fish! Fishing trips or pure pleasure cruises are easy to arrange from the quayside. Or take the cliff path to explore the secluded smuggling coves of Talland and Lantivet Bay.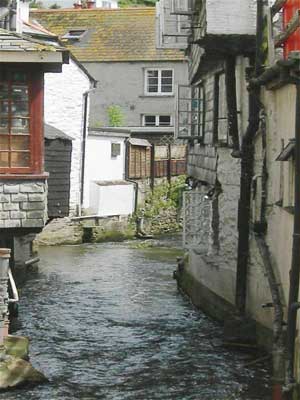 One of the most popular places in Cornwall, the village of Polperro is undoubtedly one of the prettiest.
Packed tightly into a steep valley on either side of the River Pol, the quaint colour-washed cottages and twisting streets offer surprises at every turn: the Saxon and Roman bridges, the famous House on Props, the old Watch House, the fish quay, and the 16th century house where Dr. Jonathan Couch lived, naturalist and grandfather of the celebrated writer Sir Arthur Quiller-Couch
With its protected inner harbour full of colourful boats. Polperro is still a working fishing village, although tourism provides the main source of income. Attractions include a Museum of Smuggling and a Model Village.
Looe and Polperro Heritage Coast
The coastline here is part of the 80 mile South Cornwall Heritage Coast, and from Polperro beautiful walks extend to Talland in the east or Lansallos in the west, both with beaches and interesting churches. These and other secluded coves have, over the centuries, provided ample opportunities for smuggling.
North of Polperro, the village of Pelynt was the home of Bishop Trelawney, of Hawker's famous Song of the Western Men, and you can see Trelawney's chair and crook in the church.
To the northeast, you can walk and picnic in the Deer Park Forest, or at Lanreath watch craft demonstrations at the Folk & Farm Museum. At the mouth of the River Fowey, the village of Polruan faces St Catherine's Castle across the water.
During the 100 Years' War a chain was stretched between the two to demast any invading French ships. Today, the river is alive with pleasure craft and china clay vessels, and there is a regular car / passenger ferry from Bodinnick and a passenger ferry from Polruan, both to Fowey.
The area abounds with literary associations: by Bodinnick ferry slipway is the house where Daphne du Maurier wrote her first novel, The Loving Spirit, and along the secluded southern bank of Pont Pill creek you can see the hut where Leo Walmsey lived and wrote his romantic book Love in the Sun. At Penleath Point on the famous Hall Walk footpath is the granite memorial of 'Q' - Sir Arthur Quiller-Couch - who made Fowey, his 'Troy Town' famous worldwide.
Upstream, the picturesque riverside villages and countryside have associations with the legend of Tristan and Iseult, and there are pleasant woodland walks along the banks, of the River Lerryn. The whole of this area, along the Fowey river and around the coast as far as Looe, is an Area of Outstanding Natural Beauty.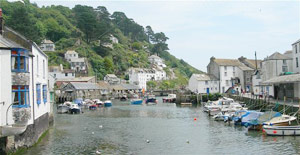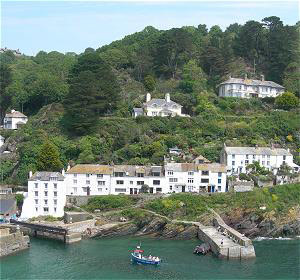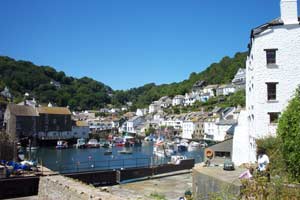 HOLIDAYS IN POLPERRO


Tourist Information Office    
The Guildhall,
Fore St., East Looe.    
Tel (01503) 262072    
Open from Easter - October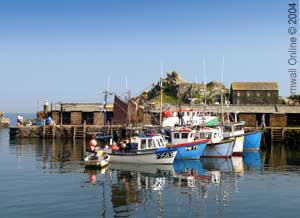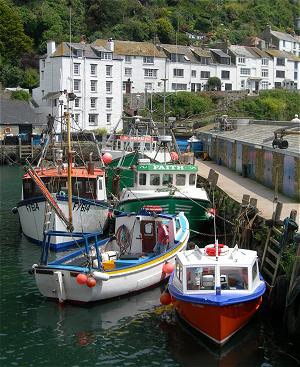 Polperro Fishing Boats along side the Quay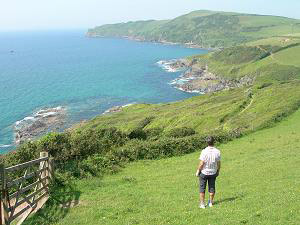 Stunning coastal walk from Polperro to Lansallos and Pencarrow Head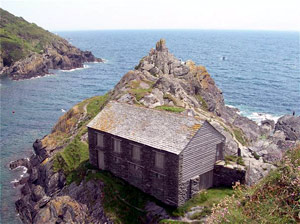 Chapel Rock and the entrance to Polperro harbour
POLPERRO HOLIDAY RENTAL
The Cornwall Online Guide - Holiday Rental properties
Holidays in Looe with the benefit of an onsite swimming pool - to help you enjoy your Holiday in Cornwall. Looe Bay Surrounded by scenic countryside and close to pretty fishing villages, this holiday park is an ideal base for exploring South East Cornwall.
Prices from £38 to £42.5
AA 4 Star, Gold award
Six en-suite luxury bedrooms with sea and rural views, Set in an exceptional peaceful location Bucklawren Bed and Breakfast has a large spacious lounge to relax, and all bedrooms are equipped with tea and coffee facilities, fridges, TVís and hairdryers. All you need for a relaxing stay. Sleeps 12 +
Bucklawren Farm B&B has
Limited Disabled Facilities
, please call 01503 240738 for details.
Sleeps:
10+ max.
Location:
Looe
beach_access
Nearest Beach:
0-1 mile
Online Availability
credit_card Credit/Debit Cards Accepted
local_parking Parking Available
wifi Internet Access
Sea Views
En-Suite Facilities

Disabled Facilities- Please call to discuss your requirements - before booking !
phone 01503 240738
Click Here for more information about holidays at
Bucklawren Farm B&B, Looe
Changeover Day = Sat
Prices from £662 to £1506
Teak cottage is a characterful cottage in the heart of the picturesque village of Polperro. Built from teak washed up in a mid 19C ship wreck, it enjoys spectacular sea views over the harbour and sea beyond. It is located within a 5 minute walk of Polperro's numerous historic pubs, cafes and galleries.
Pets are Welcome at Teak Cottage in Polperro -We are a Dog friendly establishment.
Changeover Day = Sat
Prices from £700 to £1450
Luxury family holiday accommodation sleeping 6. Located on the coastal path with beautiful views of the sea and Looe Island. Local beaches within a few minutes walk, and only a 10 minute drive from Looe with its restaurants and inns. Reduced rates for couples - out of Season Breaks. Visit Britain 4 star Gold Award - Sleeps 6
Cornwall Online is a trading name of ITS WEB DESIGN - COL DIRECT
Cornwall Online Website by ITS WEB DESIGN - COL DIRECT. Tel 01579 557343

Please ensure that you confirm all details with the Advertiser before Booking
We recommend that you take out Holiday Insurance on ALL Bookings