HOLIDAYS IN HOLYWELL BAY
Holywell Bay, is a popular family beach on the North Cornwall Coast. Holywell Bay is a popular stretch of golden sand, backed by sanddunes and sheltered by impressive headlands - it is the perfect place to relax and enjoy the tranquil scenery. The beach is instantly identifiable, due to the 'distinctive' Gull Rocks, lying in the bay, just offshore. The two islands creating an impressive backdrop to this fantastic beach.
The level sands at Holywell Bay are surrounded by National Trust land - at low tide they stretch for almost a mile, between Kelsey Head and Penhale Point. The entrance to the beach is lined with sanddunes and marram grass, with footpaths, crossing the dunes in many directions. Children love to play play in the shallow, lazy river that crosses the beach which is tidal but safe and sheltered from the sea by a sand-dune
The beach gets its name from a spring fed well, which was believed to have curative properties, with parents bringing sick children to be dipped into the well. The exact location of the Holy Well after which the village is named, has never been definitively agreed. Some say that the well is sited near the 18th tee on Holywell Bay Golf Course, others argue that the well nestles in a cave at the right hand side of the beach, where the rocks have been eroded to give the appearance of a set of steps reaching up to a font. The lifeguards on the beach will tell you more.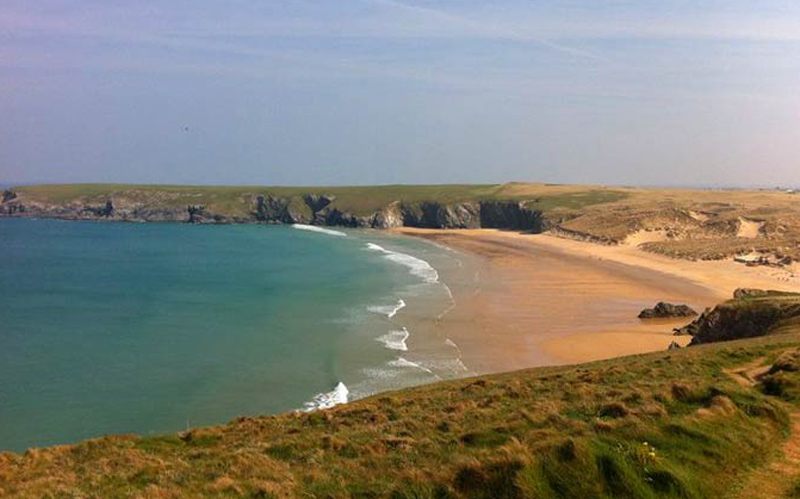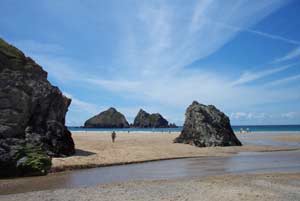 Holywell Bay beach is nearly 1 mile long and as well as being a fabulous surfing beach is a clean and safe swimming beach. Dolphins are often sighted around Gull Rocks, the two rocks which protrude out of the bay making Holywell Bay so distinctive. A popular, long but pretty walk is to the left of the beach, past Penhale Army Camp to Perranporth, 5 miles there and 5 miles back!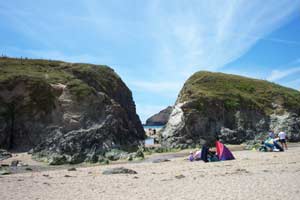 The village of Holywell offers plenty for the visitor. Holywell Village has three shops, a cafe and two inns serving locally produced food. Holywell Bay Golf Course, an 18 hole all challenging par 3 course. For the beginners or those wanting to practice their strokes is an 18 hole pitch n, putt. Open to all the family is the Golf Club House. Serving drinks and snacks. Club hire is also available and no membership or handicap is required.