HOLIDAYS IN SENNEN
& LAND'S END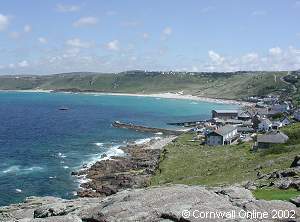 Sennen Cove - Whitesands Bay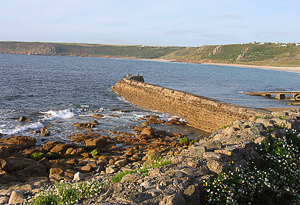 Sennen Cove - Breakwater photo Lyn Maudlin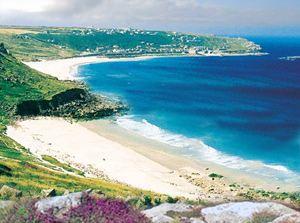 Gwenver Beach - looking towards Sennen
This popular cove is tucked around the corner from Landís End. Sennen Cove has a very popular beach situated just a little way along the coast from Land's End, the most westerly point in mainland Britain.
Sennen Cove boasts one of the finest stretches of sand in Cornwall. Whitesands Beach is a large crescent of sand that faces out onto Atlantic Ocean, so it experiences the full force of the Atlantic swell, making Whitesands Bay a popular spot for surfers.
There is a well equipped lifeguard service in operation during the main holiday season when it is generally safe to swim.
At the western edge of the beach, sheltering in the lee of the Pedn-men-du headland is the village and small harbour.
Sennen still retains much of the atmosphere of an old fishing village, with a small number of local fishing boats plying their trade from thee harbour. The small harbour has a working lifeboat station.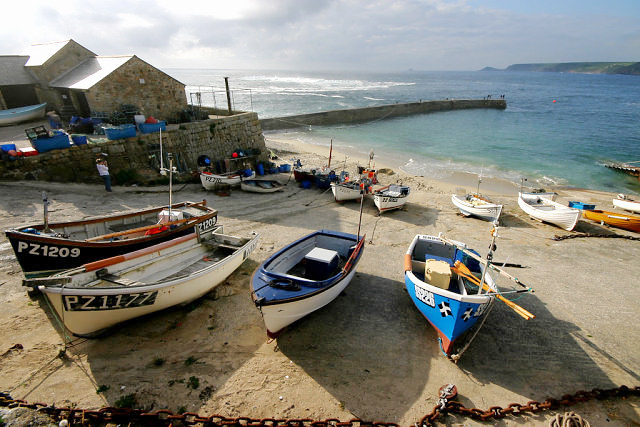 Sennen Cove Whitesands Beach
N50º 04' 41.63" W5º 41' 52.68"
Sennen beach is a mile of fine sand stretching around to neighbouring Gwenver beach. This is a very popular beach for families in the main holiday season.
Access to Whitesands Beach is from the main car park in Sennen. There are toilets in the car park and you will find a few shops, surf shops , cafes and the "Old Success" public house, just a short walk away in the village centre. The "Beach Restaurant" is located on the beach, looking out over the Atlantic. The restaurant has a large terrace on which you can relax and enjoy stunning sunsets over this rugged and unspoilt bay.
A short distance along the beach, there is a shallow valley with a small stream runs down to the sea. Sand dunes and marram grass offer shelter and it is generally a little quieter on the far side of the stream.
At low tide the beach joins up with its neighbour, Gwenver beach, to provide over a mile of golden sand, so that even on the busiest day in summer, it is possible to find the ideal spot, to base the family.
Surf lessons and board hire are available.
Gwenver beach is sandy and around 150 metres long. This beach is best used at low tide, when it forms a large crescent beach with its neighbour. There is a lifeguard service present during the summer.
Gwenver is one of the most exposed beaches in Britain and at high tide the beach slopes steeply into the sea and can be dangerous. It is a good surfing beach, known for the strength of its waves