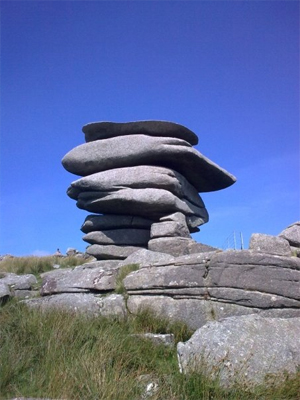 The Cheesewring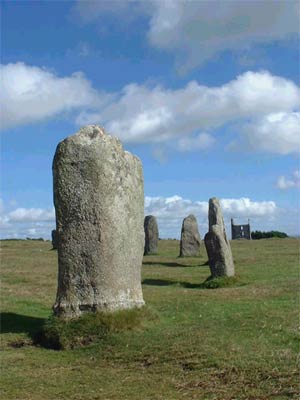 The Hurlers Stone Circles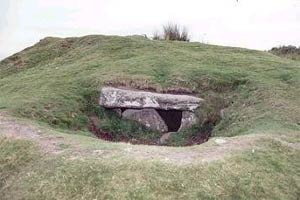 Rillaton Round Barrow
MINIONS & BODMIN MOOR - Historic Neolithic and Industrial Heritage Landscape
Minions is a short distance from Liskeard on Bodmin Moor, the village is rich in history, heritage and legend. It boasts the highest public house in Cornwall.
The Hurlers, [a unique Bronze Age Monument (c.1500 BC) consisting of a set of 3 standing stone circles] are located on the west side of the village, a short distance away from the car park.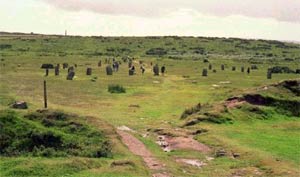 The local legend has it that some of the local men were playing a Cornish game known as hurling on the Sabbath and were turned into stone as punishment. The Hurlers attract visitors from all over the world who come to "Dowse" the stone circles and feel the energy that is said to come from them.
The Cheesewring is a short walk (approx. 1½ km the north) across the moor. On a clear day its distinct shape can be seen from most parts of the Minions moor - standing on the edge of the Cheesewring Quarry. Its shape has been the subject of many debates; the result of weather erosion on the granite strata of the moor over many years. From the Cheesewring the views across the Cornish countryside and into Devon are nothing less than stunning on a clear day.
Rillaton Barrow A very large Early Bronze Age burial barrow is located 200m north east of 'The Hurlers'. The barrow is approximately 30m in diameter and is clearly visible from the main road through Minions, but ironically, often difficult to find once on the moor - due to the number of old tin workings and pits scattered around the site.
An excavation by local miners in 1837 -'searching for stone' in a very rocky area- discovered a granite cyst set in its eastern edge. The site of the cist is still visible in the side of the barrow.
The cist contained the remains of a human skelaton, beads, spear head, pottery and the 'Rillaton' Gold Cup.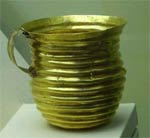 The ribbed cup, 80mm in height is believed to have originated in the middle east, either brought to Cornwall by a trade route, or fashioned by local craftsmen who had seen similar products. The 'cup' itself having spent some time in the custody of the Royal family, now resides in the British Museum. All other artefacts from the sight have been lost. An Electrotype copy of the Rillaton Cup is kept in the Cornwall Museum, Truro.