Portloe
Portloe is the living reality of a Cornish fishing village. The village lies within the Cornwall Area of Outstanding Natural Beauty (AONB). The boats unload lobster, crab and other fish. Pretty cottages cluster around the harbour and stretch up the valley on both sides. The village caters for the hungry and thirsty visitor with a local pub, hotel and restaurant producing excellent fare.
Like Port Isaac, Portloe must rate as one of Cornwall's most attractive coastal villages, largely because it has escaped the horrors of unwise development and remains truly unspoilt. Its situation is cramped and dramatic, squeezed in below the echoing, dark cliffs on the western flank of Veryan Bay, and it is hard to imagine when looking at the harbour entrance how any successful fishery could be run from here. Portloe did once support a small drift fleet and a seine fishery, a thriving pilchard fishery during the 17th and 18th centuries. Unfortunately taxes on salt (used for salting the fish to preserve them), meant that the costs involved in barrelling the fish where too expensive. There is a small active lobster and crab potting fleet in the village today, which gives life to the harbour.
As the levied costs of salt made the Pilchard Fishery unviable, many local residents turned to smuggling as a means of making a living. Portloe's remote location made it an excellent place to land contraband. Smuggling was a popular activity in the 18th and early 19th century. In 1824, to combat the significant loss of revenue, the Customs ordered the establishment of a watch, boathouse and slip should be erected at Portloe. The local inn keeper was hanged for his involvement in the smuggling of French brandy. But the activity would conytinue in the area, as long as it was profitable and many local farms and fish cellars would have been storing barrels of smuggled French brandy.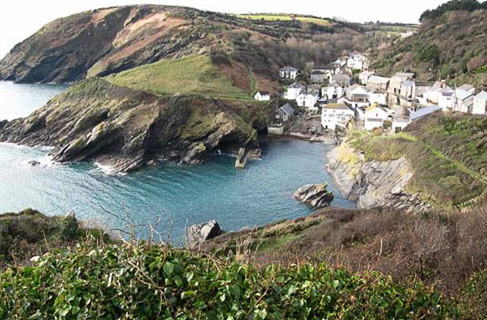 Portloe