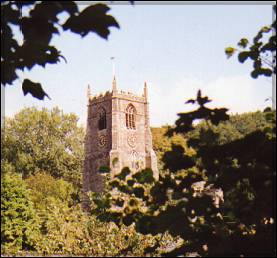 ST NEOT

The church of St Neot, standing proud in the small village which nestles below the heights of Bodmin Moor, is famed throughout the country for its stained glass.
At least half of the glass in the fifteen windows dates from the fifteenth and sixteenth centuries and depicts saints and. angels, the Flood and the story of St Neot (said to have been only four feet tall). Amongst the fine crosses in the church yard is the shaft of one from the ninth century which is said to be the finest ornamented cross in Cornwall.
Carnlaze Caverns
Carnglaze Caverns are located close to St Neot. Three man-made caverns formed by slate quarrying in the Loveny Valley, near the village of St Neot, now used as an unusual concert venue. The first cavern is known as the Rum Store - during WW2 the cavern was used by The Royal Navy to store rum. It has been converted into a 400 seat auditorium.