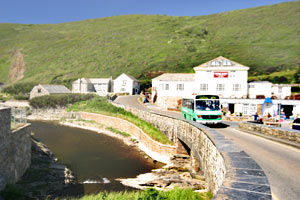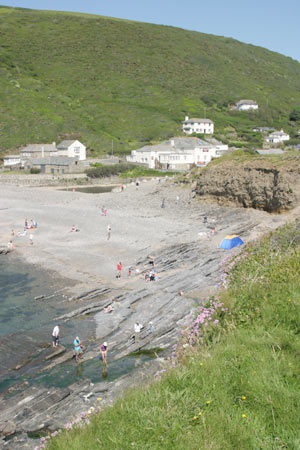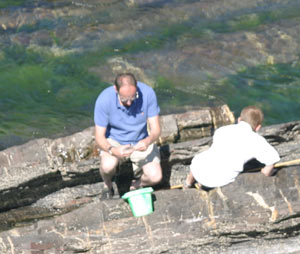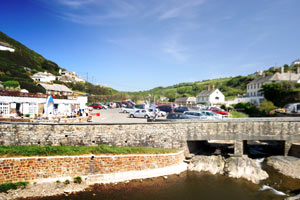 Crackington Haven
Superb day out in Cornwall- ideal for families, swmming, walking and rambling, with excellent facilities, good beach (pebbles, with sand along the inter-tidal zone,) parking, public toilets, shops, cafes, pub and restaurant, stunning scenery and breathtaking views.
Whichever direction you approach Crackington Haven, the views are really spectacular. Inevitably there has been limited development over the years, but this has mostly been done in a tasteful way and the scenery in the beach area and surrounding majestic cliffs is almost unrivalled.
Crackington Haven is an ideal spot for families, with a gently shelving beach in an enclosed bay (N.B no life guard service on beach). The upper parts of the beach is mainly pebbles, with rock pools along the western fringe. Only the road separates the sea from a couple of beach shops, charming cafe, a handful of houses, a public house with excellent restaurant and a hotel. Almost unlimited car parking space makes this a good base for those who enjoy walking. Public toilets are adjacent to the beach.
The parish of St. Gennys prides itself on the excellence of its public paths and this is due in no small way to the help of the Heritage Coast Service and the National Trust - the latter owning and controlling most of the cliff and adjacent farm land.
To the north, over the 430 ft. Penkenna Point, lies St. Gennys Church, with breathtaking views towards Bude, Morwenstow and Lundy Island. The churchyard is also the last resting place of shipwrecked mariners and perhaps a few smugglers! (The old name for those from St. Gennys was 'Wreckers & Wrestlers' ). A mile or so inland are the well thought out Treworgie Barton Woodland Trails.
To the south, the North Cornwall Coast path traverses the highest cliff in England - High Cliff at well over 700 feet.
Thomas Hardy and his first wife Emma used to walk here. St. Juliot Church is only about 2 miles inland. A little of the 'Poldark' series was filmed in the area.
For those who like remote beaches, there are few that rival Strangles and Rusey - world away from civilisation. Away from the coast are tranquil woodland paths with tinkling streams and sunny meadows and perhaps the fleeting glimpse of deer.
Many of the farms can provide meals and accommodation and Trevigue on the cliffs near Strangles is nationally acclaimed. You can also find camping, caravanning, private guest houses, self catering and farm bed and breakfast.
Of course the summer sun, the sand and the surf are attractive, but many come back for the relative peace of winter with its salt laden Atlantic gales and days of mist and rain - days of smugglers and wreckers - and ghosts of Hardy & Poldark.
---