Holiday Cottage - Holiday Rental - B&B Advertising in Cornwall
Do you want to increase your Bookings this year?
Need a better presence of the Web?

I'd like to thank you all at Cornwall Online for the most successful years of bookings for my duration until present.
John - Tintagel
At Cornwall Online, we have been promoting Holiday Rental Properties in Cornwall and Devon since 1994. Advertise your Holiday Cottage - B&B - Campsite - Holiday Apartment in Cornwall on one of the original holiday letting sites.
Cornwall Online will promote your self catering holiday cottages in Cornwall on the Internet at a cost effective price. We advertise holiday cottage, holiday apartment or bed and breakfast accommodation in Cornwall for holiday rentals in England". By promoting your business on the Internet you have the potential to reach a truly massive world-wide audience at a fraction of the cost of conventional advertising.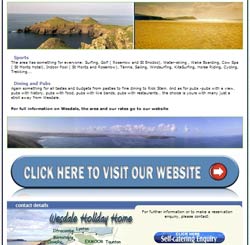 if you need a web advert that is managed by real people who create individual adverts, tailored to your needs, without the restrictions of a set database template, then contact us
At Cornwall Online, we LIMIT the number of clients who appear on the Web site, we aim to create a bespoke community of advertisers, not a "Free for all". Each of our clients is treated equally, we each advertiser treated with equal importance. We aim to create a stress free environment, working with our clients to boost their bookings
To List your property today, telephone our office 01579 557343- OR CLICK HERE FOR DETAILS
Each of our pages is a bespoke website, giving you a "real" presence on the web - we offer Free Online availability and Booking calendars and all page updates are Free of Charge.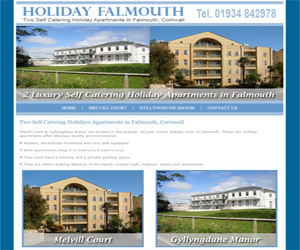 WEB HOSTING - WEB SITE DESIGN ALSO AVAILABLE
If you already have your own web site and are looking for a web hosting service with a genuine commitment to service and customer care, or you need a site created to your own requirements, then contact us about our Hosting Packages.
We have a range of packages and Hosting solutions available, that we provide you with a "Stress Free".
We will design and manage your website for you. We look after the technical aspects of owning your own website, so - updating - ftp - e-mail - html - php - asp - IP addresses - DNS service - etc. is looked after by our staff - who are always happy to work with you either by e-mail or telephone.
Customer feedback

"

The end result of getting you to act as our web host has been amazing. We have noticed an increase in Internet enquiries with a consequent increase in bookings as well as carrying out our own Internet searches to see what results we find. Nowhere is this more marked than in the bookings received from abroad.
"May I thank you for your efficient service, through which I receive majority of my bookings."
I think the website has a nice feel to it and we are extremely grateful for all your efforts to make it so.
Kind Regards, R"
CLICK HERE FOR DETAILS of OUR WEB HOSTING PACKAGES