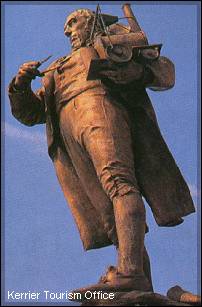 Camborne was just a village until transformed by the mining boom which began in the late eighteenth century and saw the Camborne and Redruth district become the richest mining area in the world. Although a considerable number of ruinous stacks and engine houses remain, they cannot begin to convey the scenes of 150 years ago when scores of mines transfigured the landscape. Most famous of these was Dolcoath ('old ground' in Cornish) which was known as the Queen of Cornish Mines. Dolcoath was the deepest (550 fathoms 3,30Oft), most productive (first in copper and then tin) and longest lived of all the mines in the county.
Today there is little to be seen, but enthusiasts can still visit the site of Dolcoath and identify, the few remains with the help of Exploring Cornish Mines by Kenneth Brown and Bob Acton (Landfall Publications, 1994).
Two engine houses of the East Pool and Agar Mine are preserved by the National Trust at Pool; nearby is the renowned Camborne School of Mines, the only school of metalliferous mining in the country, which includes a fine geological museum. South Crofty, between Pool and Tuckingmill, is the last working tin mine in Cornwall.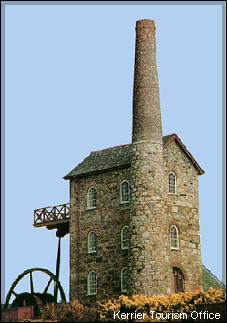 Camborne is particularly associated with a number of great engineers and inventors who helped to transform the industry and economy of the county and made Cornish mining engineering famous throughout the world.
Richard Trevithick, responsible for the high pressure boiler and the first true Cornish beam engine amongst many other things, was born here in 1771. There is a fine statue of him outside the public library, the cottage in nearby Penponds in which he spent his early years is owned by the National Trust, and his birthday on April 26th is celebrated in fine style every year as Trevithick Day.