Portholland
The tiny hamlets of East and West Portholland are inhabited by a total of approximately forty permanent residents. Clinging to the coves in which they are situated during winter gales they bask in the glorious sunshine that comes in spring and often lasts through autumn.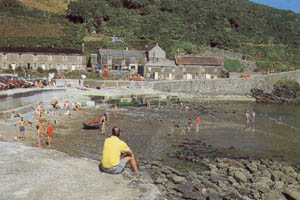 Virtually all of the properties are owned by the Caerhayes Castle Estate, one time home of the ancient Trevanion family. In 1860 the estate was sold to another established Cornish family, the Williams', who have sought to maintain the area as a working, farm-based community, detached from the hurlyburly of modern life.
Recently declared National Heritage Assets East and West Portholland and the surrounding area have remained largely unchanged for over one hundred years, attracting discerning tourists from around the world who are searching for a part of the real Cornwall which is so hard to find in the late twentieth century. Served only by a charming small shop and Post Office, Portholland has two separate coves at high tide which are joined by golden sand at low tide.
Ideal for families, Portholland is equidistant between St. Austell and Truro with their larger attractions, and is an ideal base for exploring deeper into the beautiful Roseland Peninsula.