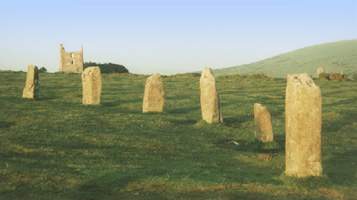 Bronze Age Monument (c.1500 BC) consisting of three stone circles in a line. The southern most circle is incomplete, but the other two have been restored. Two standing stones, 'The Pipers' lie to the west of the site.
The three large aligned stone circles, running in a NNE to SSW line, were built in a high moorland pass, between the slopes of Stowe's Hill - an ancient hill top settlement to the north and Caradon hill to the south.The site is strategically placed between the tributaries of the River Fowey to the west and the River Lynher, which feeds the Tamar, on the east.
Multiple circles are not unusual in the south-west of England and as in this case, they are often associated with sites between rivers - places of convergence for traders and travellers.
Of the three circles on the site, the southern most circle is the smallest (32.9m diameter) with only nine stones. The central circle has an eliptical shape (41.8 x 40.5m along its major and minor axis)and is the largest of the three circles with 14 stones. The northern circle is 34.7 in diameter has 15 stones, though four have fallen, and there was originally 24 stones in the circle when constructed. The stones in the circles have all been skillfully set in place, so that they all appear to be the same height. The central and the northern stone circles were once linked together by a granite pathway that ran through their central axis.
The northern circle was crossed by a boundary bank, and two standing stones, 'The Pipers', which lie approximately 120m to the West of the main circle site, could be boundary posts, although some scholars attribute them to an astronomical role.
The name The Hurlers refers to an old local tradition about the creation of the circles. In 1610, the historian William Camden wrote:
The neighbouring inhabitants terme them Hurlers, as being by devout and godly error perswaded that they had been men sometime transformed into stones, for profaning the Lord's Day with hurling the ball.