Talland Bay in South East Cornwall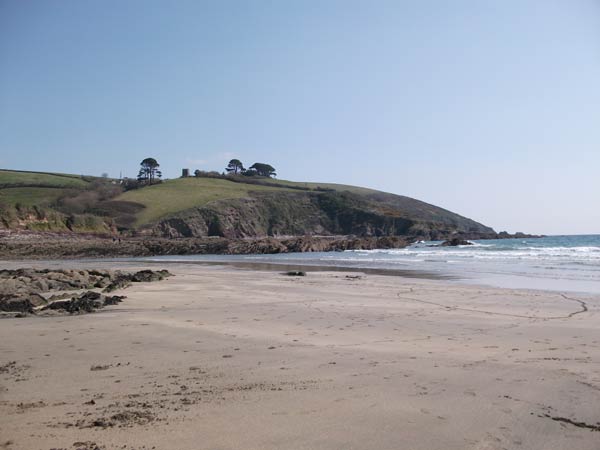 Talland Bay at low tide - looking towards Looe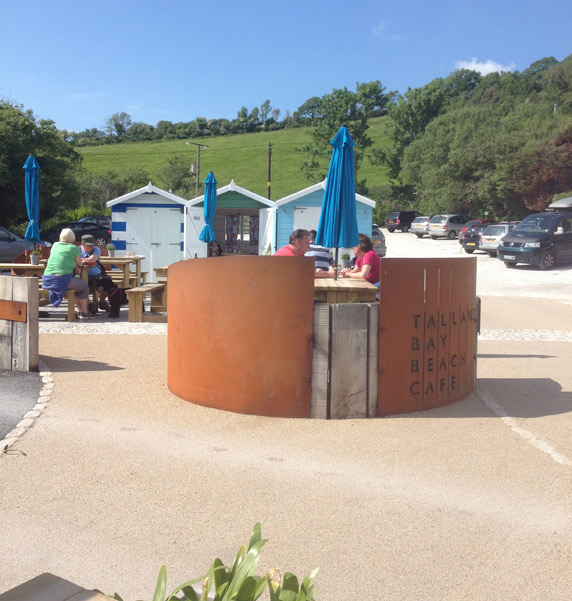 The Talland Bay Beach Cafe and parking -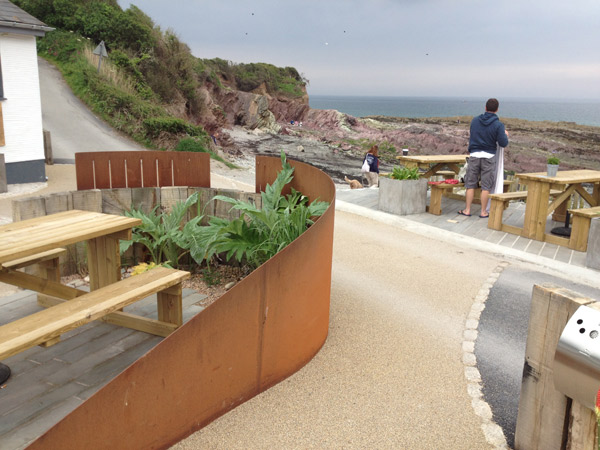 Talland Bay lies mid between Looe and Polperro, is a secluded cove with three small shelterd beaches that are safe for swimming flanked by a rocky foreshore.
Car Parks
Refreshments
Kayak Hire
Toilets
Dogs allowed
Rock pools
Located on the coastal path Talland Bay is a small cove that provides a quiet "out of the way" spot for families in An Area of Outstanding Natural Beauty with small coves and beautiful natural tidal pools to swim in.
Talland Bay is divided into two distinct areas, each with its own small beach.
The Western beach, (where Bridals Lane crosses the small stream) adjacent to the Talland Beach cafe, is the most popular with familes. The beach has and a pay and display car park located between the small stream that flows through the valley onto the beach and The Beach Café.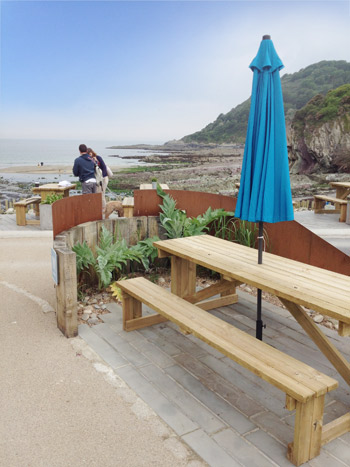 The Talland Bay Beach Cafe, is located right on the beach, and rated as one of the best in Cornwall. The café has seating alongside the coastal path - providing excellent places to sit and enjoy the view.
From the car park there is easy access to the beach - also suitable for disabled access.
The beach here has sand at all states of the tide. But the best sands are at the lower reaches of the beach - accessible at low tide.
The upper reaches of the beach are quite coarse, a mixture of gravel and rocks. There is a ramp available at the beach for launching boats. The cafe rents out kayaks.
Toilets are located on Bridals Lane (the main approach road) on the incline where the road begins to curve down to meet the beach.
The second beach, on the eastern edge of the Bay - near to St Tallanus Church. the beach here is quieter - withthe access to this small beach - via steps from a small parking area opposite the Smugglers Rest cafe. This beach has less sand , but is easier to swim from at high tide.
There is limited free parking along the small roadthat runs between the two beach area, with cars, parking up as "tighly" as they can against the Cornish hedge.
Talland Bay is a beach for "rock pooling" - the Meadfoot bed rock strata (slates, siltstones and sandstones from the Devionian period 408 to 360 Ma million years ago ) is steeply inclined, with the different rock strata being eroded at differing rates, the rocky fringes of the beaches create a collection of pools where children can explore and fish for crabs, shrimp and small fish. The rock pools have a good variety of marine creature including Beadlet Sea Anenomes and hermit crabs.
Between the two beach areas there is a large expanse of rocky shoreline, ideal for fishing and rock pooling. At low tide, the remains of the boiler from the wreck of the 'Marguerite' a 220 tons French trawler that ran aground in 1922, can be seen in the rocks.
Talland Bay was once a haven for smugglers, due to its secluded location.
From Talland Bay you can follow the coastal path around the Headlands towards the Warren at Polperro, or eastwards along the coast into Hannaforth at Looe. Both walks take you through stunning coastal scenery. The Beaches are Dog friendly -