Charlestown

Holiday Cottages in Charlestown | Bed and Breakfast in Charlestown
Charlestown
<! ------------------------------Bottom Images --------------------->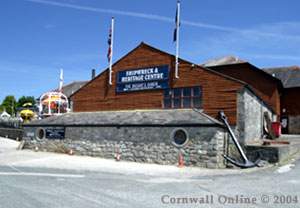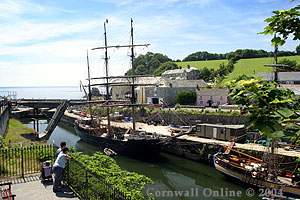 Looking across Charlestown from the
Shipwreck and Heritage Centre.
<! ------------------------------## Bottom Images --------------------->
Shipwreck and Heritage Centre
Quay Road Charlestown
Tel: +44 (0)1726 698 97
Shipwreck and Heritage Centre
Quay Road Charlestown
Tel: +44 (0)1726 698 97
Charlestown's Centre commemorates achievement and heartbreak in a unique 18th century setting barely touched by time.
The achievement belongs to one man, Charles Rashleigh, whose vision created a thriving port out of an obscure fishing village. His reasons are, literally, a part of the Centre, which is built over the tunnels of an old China Clay "Dry". Down these - as you can see today - stevedores pushed wagons full of Cornwall's "white gold" to waiting ships.
The activity and facilities generated other trade - in pilchards, stone, tin, copper ore, timber and coal - and with it, a large commercial infrastructure.
Full-scale tableaux in the ' Heritage section show a cooper, blacksmith and others at work, drawn to Charlestown by the magnet of trade. In the Audio Visual Theatre you can see the saga unfold, from the optimism of the 1791 blueprint, through a century of growth to recession and decline at its end.
The Shipwreck section flips the coin of enterprise to show the forces it cannot control. Round Britain's coasts are over 250,000 wrecks, many with stories of courage and cowardice, greed or sacrifice to tell. The Centre shows a rich sample, in photography and wreckage or salvaged cargo: here, a 400-year old cannon; there, priceless Nanking porcelain: the artefacts recovered from the tragic sinking of HMS Ramillies in 1763, and - in a unique display - the history of underwater exploration, from the original wooden diving barrels to the latest 'bell".
Fittingly, the Centre's latest addition emphasises the saving of life at sea. While remaining fully operational, the Lifeboat "Aurelia" is on display for all to see how the RNLI volunteers face the elements.

The beach and entrance to Charlestown Harbour | The Charlestown Shipwrek Museum
<! ------------------------------Bottom Images ---------------------> <
Charlestown Holiday Cottages - B&Bs
Holiday Accommodation in Charlestown
<% sql = "SELECT TOP 200 * From Clients WHERE (([Local Area] Like '%Charlestown%' OR [Local Area] Like '%st austell%' ) AND [Show] NOT LIKE '%Hide%'AND [HolidayAgency] NOT LIKE '%') " sql = sql & " ORDER BY rnd(INT(NOW*id)-NOW*id)" %> <%' Open Connection dim objConn dim objRec set objConn = Server.CreateObject("ADODB.Connection") set objRec = Server.CreateObject("ADODB.Recordset") ' set the cursor location for record count objRec.CursorLocation = 3 objConn.Open "Driver={Microsoft Access driver (*.mdb)};DBQ=d:\wwwdata\pub-domains\www.westcountry-online.com\accommodationdata\database\accommodationdata.mdb" objRec.Open sql, objConn 'objRec.Open "Clients", objConn, 0,1,2 %>
CHARLESTOWN & ST AUSTELL AREA HOLIDAY RENTAL