THE FAR WEST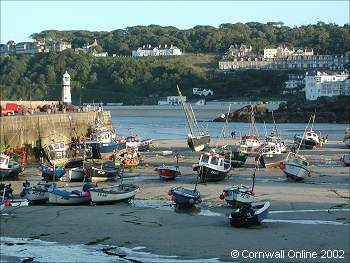 St. Ives
The fortunes of St. Ives, one of Cornwall's most popular holiday resorts have, over the centuries been inextricably tied to its harbour. It was from St. Ives that boats carried hard won tin to the burgeoning industrial centres, and it was from here that one of Cornwall's great fishing fleets set sail. Today, the harbour remains very much the focal point of the town.
St Ives is certainly worth a visit and offers the visitor cruising along the North Cornwall Coast an incomparable range of shops and services. The old town, built around the harbour, is a maze of cobbled streets and alleyways and jumbled granite cottages spilling to the water's edge. The Tate Gallery overlooking Porthmeor Beach, just 5 minutes walk away from the harbour, should not be missed.
Harbour Characteristics
A drying out harbour, like Padstow's with a sandy bottom. Few problems of approach or entry. Remains primarily a working harbour, and the quays are in constant use by fishing boats and pleasure craft.
Visitors' Moorings
Half-dozen within harbour; small number of others available. VHF Channel 16.
Pilotage
Only hazard is the inappropriately-named New Pier, an old wooden pier SW of Smeaton's Pier which is submerged except at low-water. Marked at end by green conical buoy.