THE SOUTH COAST
Other Harbours of the Carrick Roads
The Fal Estuary is the third largest natural harbour in the world and the area known as the Carrick Roads extends 4 miles from Black Rock to Turnaware Point with nowhere being less than 1 mile wide. Its huge expanse of sheltered water is accessible in all weathers and at all states of the tide.
The famous Helford River is close by, and the many miles of beautiful waters within the estuary provide enjoyable sailing even when there is a full gale in the English Channel.
The shoreline of the Fal Estuary is broken by creeks and inlets, the exploration of which can be vastly rewarding. But, although the presence of boats at moorings often indicates the channels, those with deep-draft boats would be wise to make their first visit on a flood tide.
There is an 8 knot speed limit in force within the Penryn River, Falmouth Inner Harbour (i.e. all that area west of the docks) and north of Turnaware Bar. There is a 5 knot speed limit in force within the Percuil River and St. Mawes, St. Just Creek, Mylor Creek and Restronguet Creek.
Take care to avoid anchorage or grounding on the oyster beds, which cover a considerable area and are marked with withies.
Penryn
At HALF-TIDE, it is possible to follow the Penryn River as far as the ancient town of Penryn. The Town Quay is extensively used by fishing boats and it is wise to have a word with the Harbourmaster, whose office is on the quay, if you come alongside.
Mylor
Mylor Yacht Harbour was for many years the smallest Royal Navy dockyard in the country. There are impressive facilities, including a well-stocked chandlery, a fuelling berth, boat hoist and cranes, workshops and a visitors' pontoon.
Malpas & Truro
Vessels bound for Malpas and Truro may anchor outside the navigable channel, and may lay alongside Town Quay, Truro outside the Harbourmaster's Office. The Harbour Office also monitors Channel 12 VHF (call sign Carrick One). There are a number of deepwater fore and aft yacht moorings for large yachts 40-100 feet LOA in addition to the visitors' moorings at Malpas. For those wishing to anchor, please remember to keep dear of the channels and fairways, and show anchor lights and/or shapes. Good anchorages can be found at Channels Creek, (although you may have to move if a laid up vessel is entering the port) Kea Rech, Coombe Creek and Tolverne.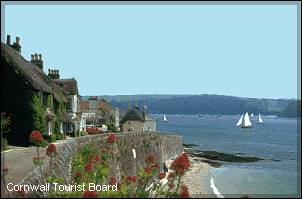 St Mawes
St Mawes boasts a wide entrance, the only hazard being Lugo Rock which is always covered and is marked by a South Cardinal buoy. No boats to lay alongside quay steps except for embarkation and disembarkation. Visitors' moorings by arrangement.
Helford River
The Helford River offers a straightforward approach, the only danger being a reef to the north of the entrance known as August Rock. or The Gedges. lt is marked by a green conical buoy (Fl G.5s). Further upriver, the channel to Gweek looks formidable but is in fact well marked with port and starboard-hand top marks.
Stithians Lake
Situated deep in the heart of Cornwall, only three miles from Redruth and 7 miles from Falmouth, and is best reached off the A30 through Redruth. Although it is only 170m above sea level, the 270 acre lake is one of the windiest places in England and the prevailing south westerly winds blow cross shore, providing superb sailing for improvers and experts. Stithians is not just for the experienced sailor, however, and the Centre provides tuition by qualified instructors.
There is an extensive array of equipment available for hire to suit all levels of ability and there is rescue boat cover during the day. There is plenty of car parking space and a large lakeside area for rigging and launching as well as a slipway for larger craft. Showers and changing facilities are available.