THE FAR WEST
Newlyn
Newlyn, although very much a working harbour, is a convenient choice for overnight stay for boats en route to the Isles of Scilly or across the English Channel to Brittany. It is well used by Cornish yachtsmen, because it is accessible at all states of the tide.
Up to 150 boats fish out of Newlyn, making it the largest fishing port in England, and it is as well to bear this fact in mind.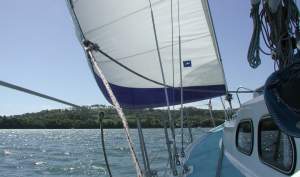 Visitors, although welcome for overnight stays, will not entirely be able to escape the bustle and atmosphere of those landing fish. As it is, visiting boats normally tie up on the western side of the jetty in the centre of the harbour.
The town itself, adjoining Penzance, is well placed for visiting the Land's End peninsula.
Harbour Characteristics
The harbour is formed by the long arm of the busy North Pier, which adjoins the fish market, and at 90 degrees to it, the South Pier. Entrance between the two is 150ft wide.
Visitors' Moorings
Overnight only. No moorings provided: up to 30 boats can tie up alongside the fishing boats. VHF Channel 16, working Channel 12.
Pilotage
Approach and access straightforward,10ft at low water springs.