THE EAST COAST
Looe
East Looe and West Looe stand on either side of a tidal river, together forming one of south east Cornwall's major tourist centres. One of the resort's outstanding attractions is a fine land-locked harbour formed by two rivers which unite just above the town, and there is an equally fine seven-arched. Bridge spanning the river and uniting the two communities. The harbour entrance is picked out by the distinctive banjo-shaped pier. The harbour itself is a drying one, and primarily caters for a fishing fleet of 35 boats and pleasure craft Looe is also notable for its dinghy sailing, the sailing club having hosted a series of national championships, and for its shark fishing. The Shark Angling Club of Great Britain has its headquarters here.
For small craft of up to 16ft the river is navigable at high water for perhaps 2 miles, though the river itself runs almost to Liskeard 9 miles to the north. For larger boats, the bridge provides an effective stop.
The town is well supplied with shops and facilities, but no great provision is made for visiting yachters.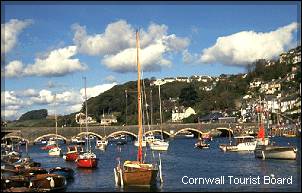 Harbour Characteristics
Landlocked, drying harbour, largely used by fishing boats and other commercial craft and by pleasure craft. Looe Island - also known as St. George's Island - lies 300 metres from the harbour entrance, but approach and entry remain uncomplicated.
Visitors' Moorings
Quayside berth on port-hand side, marked yellow, can cater for small boats further upriver. Commercial activities preclude anchorage in harbour middle.
Pilotage
Rocks to port side of harbour entrance and to west side of beaches are marked; flashing light at night. Nailzee Rock, close under cliffs, submerged at high tide, also marked.