THE EAST COAST
Mevagissey
Mevagissey is one of Cornwall's most photographed old fishing harbours, and has the distinction of remaining a true fishing harbour. Up to 50 fishing boats sail out of the harbour, and tourist craft add to the inevitable congestion in high season. As a consequence, berths for visitors are reasonably difficult to obtain.
The harbour is well protected from the weather, with the notable exception of a southeasterly wind. In such winds a strong swell makes the outer harbour dangerous, and entrance should never be attempted because seas can break off the mouth. There are submerged rocks to the north and south of the harbour and on both sides of the north pier. Once ashore, facilities for visitors are good.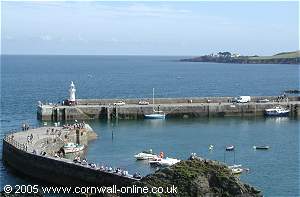 Harbour Characteristics
The Inner harbour and sides of the outer harbour dry out, though a central area remains in which boats can stay afloat.
Visitors' Moorings
Provision made on South Pier. Temporary berths needed by fishing craft must be vacated immediately. VHF Channel 16. A safe anchorage is available off the harbour wall in calm conditions of offshore winds. Moorings for visiting boats up to 18 feet in length are available throughout the season. Owners to enquire at Harbour Office.
Visiting craft should moor alongside South Quay, and owners/masters report to the Harbourmaster.
Pilotage
Approach and entry are uncomplicated, subject to weather conditions mentioned above.