THE SOUTH COAST
Porthleven
Porthleven is an old fishing harbour situated in Mount's Bay, halfway between Penzance and Lizard Point. It can be visited in fair weather by bilge keel yachts or other vessels prepared to take the ground, but even at the best of times approach and entrance require care. Visiting boats should not cut close to the pier or the rocks opposite, but keep to the safe channel midway.
The outer harbour is exposed to south-west and west winds and swells. When strong winds are blowing from SE to WSW, or if such winds of Force 7/8 are forecast, or if there is a heavy swell running, the inner harbour entrance may be closed by large timber baulks lowered between the inner breakwaters. The outer harbour is not a safe anchorage, and so Porthleven harbour is effectively closed at these times. In doubtful weather, always ascertain if the harbour is open by contacting the Falmouth Coastguard on VHF Channel 16.
Closure is signalled by hoisting a red ball on the flagstaff near the prominent clock tower. By night, the fixed green leading lights are OFF when the harbour is closed.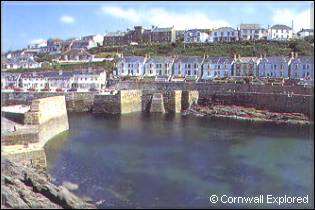 Harbour Characteristics
A small drying harbour. The outer harbour is open to the weather and swell: the buoys are fishing marks and should not be taken as moorings. There are two metres of water just inside the inner harbour at half-tide, although the harbour is shallower at the northern end.
Visitors' Moorings
Visiting yachts are recommended to come alongside the Quay on the eastern side by the Harbour Hotel (there are ladders). Mooring available alongside the wall (subject to length).
Pilotage
Porthleven is to the north of the long, sandy beach of Loe Bar. On approach keep offshore and out of shallow water until harbour entrance can be picked up by the conspicuous clock tower and vessel is in a position to make an entry.
There are shelves of rock on either side of the harbour entrance and the swell becomes more uncomfortable in the shallower water near the entrance (in rough weather, the surf can break right across). An accurate entry is therefore required, parallel to pier in mid channel. By night the leading marks are the two fixed green lights, the outer light to be left close by to starboard to pass inside the pier. Do not moor alongside the pier or wall of the outer harbour as the foundations are fringed with rocks that dry at low water.