Portreath
Portreath is a small drying harbour, now used by forty local fishing, diving and pleasure boats and occasionally by visitors cruising along the North Cornwall Coast. At one time it was a busy port serving the mining and industrial towns of Redruth and Camborne, importing coal and exporting tin and copper. It is the only usable harbour between Padstow or Newquay and Hayle or St. Ives, but even so should be regarded with great caution.
Harbour Characteristics It should be noted that the entrance is dangerous when there is a heavy sea or ground swell running, or when it is blowing from west to north: in such conditions yachts should keep well away from this stretch of coast. The harbour is not lit, although it can be picked out by a white "pepperpot" day mark on the cliffs above the harbour.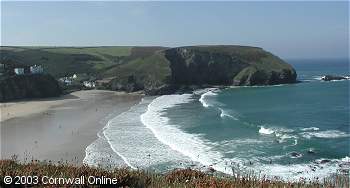 Visitors' Moorings
Occasionally available. The harbour belongs to Kerrier District Council, but moorings are looked after by the Portreath Harbour Association. No mooring charges as such, but a donation would be accepted by the treasurer or secretary.
Pilotage
The middle basin dries about two metres. There is some water from half-tide upwards but, depending upon draught, the harbour is generally usable for two hours each side of high water. During entry, do not cut the corner around Horse Rock or the pier head. Come in 150°T, keeping the inner wall of the pier alongside the Round House just visible. Follow through the turning basin into the inner harbour. Moor fore and aft with anchor and warp to a breakwater, or alongside the wall. The inside dock shallows towards the far end, where there is a small slipway.