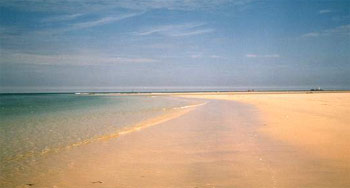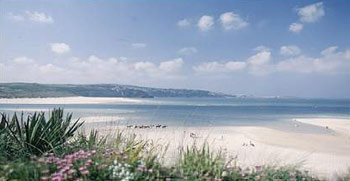 Lelant - Charming village at the estuary of the Hayle river with long stretches of sand and dunes, linking with Carbis Bay to which there are lovely walks. The estuary itself is an important bird-watching site.
Once the principal market and port for the area. Its 15th Century church at the edge of the dunes mark its history as a religious centre. The West Cornwall Golf Club is also situated on the dunes there.
St Erth - Picturesque village on the River Hayle, navigable in the 16th Century up to the ancient bridge where the 14th Century church stands. Medieval lantern-head cross in the village square.
Hayle is very popular with holiday makers with many facilities and a wide range of leisure activities only a short walk from the beach.
Famous for the three mile stretch of soft golden sand, stretching in a gentle crescent from St Ives Bay to Godrevy Lighthouse, with superb panoramic views of St Ives, Carbis Bay and Godrevy Lighthouse, which - like so many of Britain's lighthouses - is no longer manned. Godrevy Lighthouse provided the novelist Virginia Woolf with the inspiration for her novel 'To the Lighthouse'.
Behind the main expanse of sand, you will find The Towans, Cornish for sand dunes, which dominate the coastline and provide a great place for families to explore the rich habitat for wildlife that they create.
Each year, the Hayle estuary between Copperhouse and Lelant Saltings provides a feeding ground and stop off point for many types of migratory birds.
The long beach at Hayle, literally has something for everyone. It is excellent for swimming, surfing and of course sun bathing. There are many swallow pools for the children to play in an during the evening it transform into a truly romantic location for that evening stroll.
Named from the Cornish heyl, 'estuary', Hayle is one of only very few sheltered estuaries on Cornwall's north coast and, as such, has been a port from the very earliest times. However, the harbour entrance has never been easy and dredging has long been needed to counteract the silting up of the river.
The boom time for the harbour and, effectively, the birth of the town came in the first half of the nineteenth century when the name of Hayle became synonymous with mining -related industries such as tin and copper smelting, and the foundries of Copperhouse and, above all, Harvey's.
Today there is not much left to be seen of the great Carnsew foundry of Harvey & Co., but for a time it was the most important in Cornwall, employing 1000 men and exporting Cornish beam engines and other mining equipment all over the world - to Australia, South Africa and the Americas.