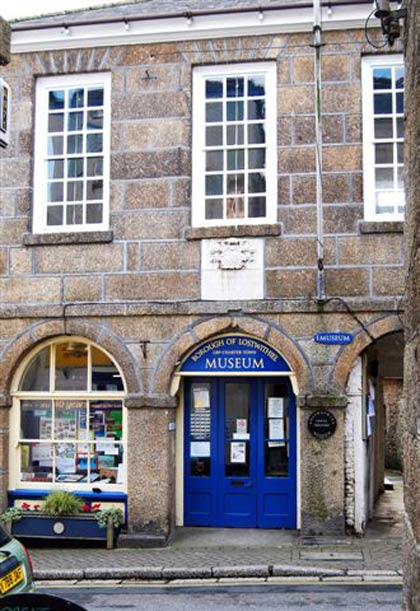 DIRECTIONS
Turn into the town centre of Lostwithiel at the traffic lights on the A390 (into a one way street). The museum is on the right.
LOSTWITHIEL MUSEUM

Text by Barbara Fraser
Lostwithiel was founded in the twelfth century, by the Norman lords living in Restormel Castle, to be a port for the export of tin.
The town and port quickly grew and developed in importance. By the end of the thirteenth century it was the County Town of Cornwall, responsible for administering all county and stannary (relating to tin) affairs, and was the major port in the county.
The museum is housed in a Georgian building on Fore Street, first used as the Corn Exchange. The back room of the museum dates from an earlier period and was originally the town gaol. Above the museum is the Guildhall.
Other buildings on Fore Street date from the thirteenth to the nineteenth century, and together with the mediaeval bridge and the unique church dedicated to St Bartholomew, they give a clue to the long and fascinating history of the town.
The museum has a varied display of domestic articles, craft tools, agricultural implements, medals, minerals and other artefacts, all given by local people over the years. The largest item on display is Lostwithiel's original eighteenth century hand pumped fire engine.
The impressive photographic collection illustrates the social history of the town since the early days of photography.
OPENING TIMES.
Open daily, except Sundays, from Easter until end September. 10.30.am-4:30pm.
Open for town festivals.
Groups welcome out of season by arrangement.
Please ring the contact number...01208 873005
PARKING.
Free car parking is available nearby.
SPECIAL FEATURES.
There is no charge for admission to the museum. There is wheelchair access to the main display room. Local publications are on sale. Copies of photographs in the collection may be ordered.
Lostwithiel Museum,
Fore Street, Lostwithiel, Cornwall
Tel
Charity No. 1029141