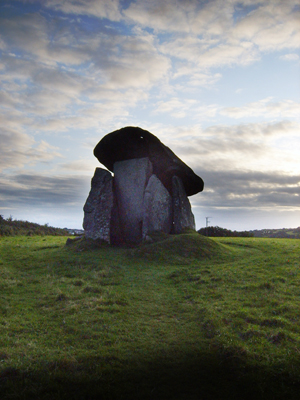 Photo Carol Trueman - August 2009
Trevethy Quoit - Portal Dolmen
A well preserved and impressive neolithic chamber tomb, with a dramatically slopping capstone. Norden , in 1598, desribed it as 'a little howse raysed of mightie stones, standing on a little hill within a fielde', which is just as it appears today. The site is one of two in Cornwall that feature a pair of chambers (see Lanyon Quoit).
Trethevy is known locally as 'The Giant's House'. The site is one of the most impressive dolmens to be found in England. The structure has a 3.7m long capstone, which reaches a height - in its partially fallen state - of 4.6m. The main rectangular chamber is made of six uprights (originally seven) - measuring 2 x 1.5m. At some point in the past the slab located at the rear of the chamber collapsed inwards, causing the giant capstone to tilt downwards at a dramatic angle, and also caausing the partitioning the floor area from the upper chamber space.
Trevethy Quoit was constructed with flanking stones projecting across the front of the chamber, creating a small partially enclosed space before the front closure stone. A small rectangular opening has been cut into the lower right edge of the front closure stone, permitting access to the burial chamber. Some of the other stones have also been carved or perforated. The fallen rear stone has five cupmark-like hollows in its upper surface. The capstone has a natural hole which pierces the stones highest point. The function of this hole is still somewhat of a mystery - with some people holding the view that it had an astronomical role. The left flanking stone at Trethevy has two deep modern drill holes. The stones at Trethevy are surrounded by the remains of a mound, which it is though covered the lower part of the stones - acting as a ramp to aid access to the chamber during burials.