Portscatho
Portscatho is a charming and unspoilt fishing village with a picturesque harbour, lying in a sheltered east-facing cove in the corner of Gerrans Bay with stunning panoramic views along Gerrans Bay. Portscatho's proximity to many fine sandy beaches and its shelterd waters makes it a firm family favourite, with many vibrant rock pools to explore and clear waters offering safe swimming - making it an ideal family holiday destination.
The location of the village was chosen by the original fishermen looking for a base, for the pilchard fleets of the 'eighteenth and nineteenth centuries', that would provide shelter from the prevailing south-westerly winds. Portscatho is still an active fishing village with a number of small inshore fishing boats plying their trade in the local waters. The shelter that those original fishermen sought in the sheltered waters of Gerrans Bay, makes Portscatho ideal spot for kayaking and stand up paddleboarding. Many will recognise the villave from the television series, 'The Camomile Lawn', as it was used as the location for filming the series.
Portscatho village centre has several small shops as well as galleries and gift shops. A charming 18th century Cornish pub, 'The Plume of Feathers' is located a stones-throw from the water's edge - serving local St Austell Ales, craft spirits and delicious local seafood dishes.
Gerrans
The quaint village of Gerrans lies at the top of the hill, just a short walk from the pretty harbour and beaches of Portscatho. Gerrans is thriving community with a range of facilities providing for local needs, including shops selling locally caught fish and garden produce, as well as a local crafts. Gerrans also has a garage, and a pub.
St Gerrans Church - known as 'the Ancient Church by the Sea,' is a dominant feature of the local landscape, standing on the brow of a hill overlooking the sea. The medieval octagonal spire of the parish church has acted as an invaluable landmark (daymark) to generations of local sailors and fishermen. The church was dedicated in 1261 - built on the site of an earlier Celtic Church. St Gerran's was named after Geraint - an 8th century Cornish chieftain who was converted to Christianity
The surrounding coastal path and countryside offers a variety of interesting walks with an abundance of wild flowers - especially in May and June.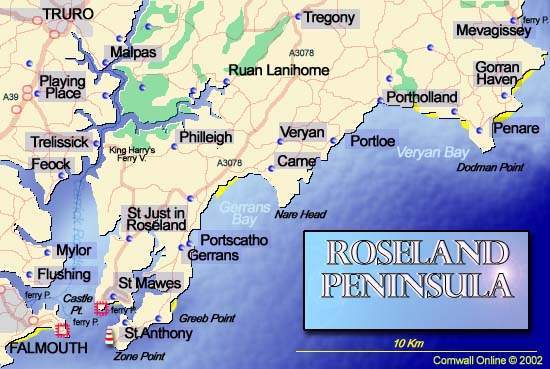 Villages on The Roseland Peninsula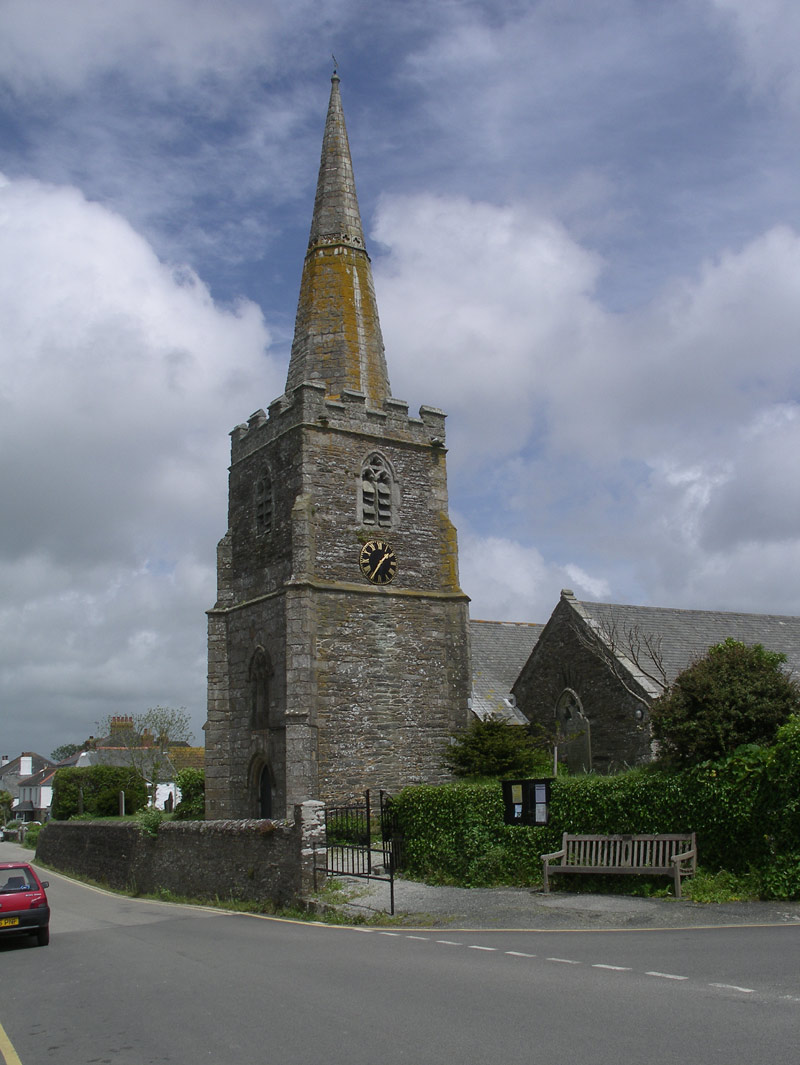 St Gerrans 'the Ancient Church by the Sea'
Villages on The Roseland Peninsula