Holiday Cottages in Bude | Holiday Homes - Camping - Holiday Caravan Stays in Bude Cornwall
Bude
Holiday Cottages in Bude
Bude - on Cornwall's stunning North coast is an ideal Holiday destination. The picturesque town located on the North Cornwall coast has a unique feel to it.
Families enjoy staying in Bude, as it has so many features; stunning beaches, a canal, with boating and riverside cafes, a tidal swimming pool, and miles of stunning North Cornwall coastline.
Staying in one of our listed Cottage rentals in Bude is the ideal way to enjoy this stunning location. People of all age will be amazed at beaches in and around Bude, whether it is for family days on the sands, surfing in the atlantic breakers or exploring isolated coves along this coast line.
Bude is a picturesque town, with a river and a canal. The main car parking is adjacent to the beach, just east of the river as it runs across the sand dune system at the mouth of the bay. The Sandunes provide a popular "sheltered area" away from the busy and more exposed Summerleaze beach.
The town rises up on the eastern side of the river, with shops and arcades located along a pair of streets that rise up the small hillside. Bude's canal is a major feature of the town, a place to relax, hire a rowing boat, or just enjoy a stop at one of the canalside cafes or nearby pubs. A holiday in Bude is the ideal location for the whole family - the beaches, the canal, the coast give you everything that you could want in a seaside holiday in Cornwall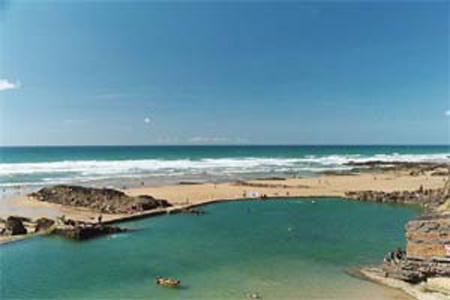 Summerleaze beach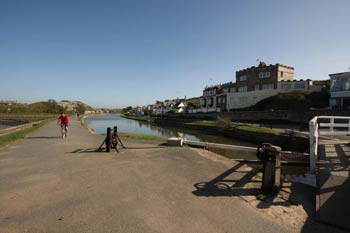 Bude Canal
The Cornwall Online Guide - Holiday Rental properties
Facilities at Old Lifeboat House
Great family holidays, for up to 4 people in Bude. Attractively situated overlooking Budes inner harbour, on the upper wharf of the Boating Canal and a short walk to Budes popular Summerleaze Beach, or the shops. There is ample car parking at your front door.
Facilities at Lower Northcott Holiday Cottages
Holidays at Lower Northcott Holiday Cottages are a great way to discover the magic of this amazing area. Based in Bude, Lower Northcott Holiday Cottages is ideally placed to allow you to experience the wonders of this part of Cornwall,Devon. Lower Northcott Holiday Cottages is a great place to relax and enjoy a Cornish 'get away' - we are located close to the Cornish coast, with Sea Views from the property . Relax in the onsite swimming pool - what better way to enjoy your Holiday in Cornwall. Three Holiday properties sleeping 17, 8 and 2 people located half a mile from the stunning Northcott beach. Sea Views, Large gardens and spacious interior, extremely popular for large family groups. celebrations, re-unions, house parties. SLEEPING 17, 8 and 2
Pets are Welcome at Lower Northcott Holiday Cottages in Bude - We are a Dog friendly establishment.
Great family holidays, for up to 10 people ( and the family pet ) in Bude. Pendragon is situated in an amazing location overlooking Crooklets beach, the North Cornwall Golf Course is in front of the cottage and National Trust land at the back. The town of Bude is also just a short walk away. It was built in Edwardian times as a Gentlemans residence.
Pets are Welcome at Pendragon in Bude - We are a Dog friendly establishment.