Relax - Chill out - Enjoy the countryside!
Holiday in and around Hayle in West Cornwall provide Quiet - peaceful escapes with wonderful views - Hayle. Holiday rental accommodation near Hayle, Carbis Bay and St Ives.


Hayle is an ideal touring base from which to visit the many beautiful areas within the south and west of Cornwall. It also offers some peaceful country walks and gives the visitor a different aspect to the beauty of Cornwall, showing the County's inland scenery. Holiday Cottages and Self-catering holiday Apartments and Caravan breaks in Hayle provide the perfect location from which to enjoy and explore the sights and sounds that Cornwall has to offer.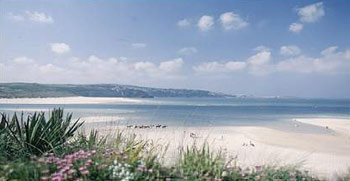 Using Hayle and Carbis Bay as your holiday base, you are within easy reach of the south (Lizard) and west (Lands End) peninsulas, the heart of both being within a 15 mile radius. The popular beaches of St. Ives and the 3 miles of golden sands at Hayle are also only a short drive from your base.
Other attractions that are close by are Camborne Leisure Centre with it's two pools, West Cornwall and Praa Sands Golf Clubs and the excellent family attractions of Paradise Park at Hayle and Flambards at Helston.
Our Self catering accommodation near to Hayle are ideal for families who need the felexibility that a self-catering break can offer, allowing you to enjoy your holiday break at a pace that suites you. Self catering holidays in Cornwall give you easy access to Cornwall's attractions, coastline and countryside.


Hayle, Gwithian and Riviera Towans are very popular West Cornwall Holiday destinations - families like the large sandy beaches. Cornwall Online Offer a variety of self catering accommodation ( Caravans, Holiday Cottages, Campsites and Holiday Apartments) close to Hayle. In this region of Cornwall, Holiday cottages and barn conversions are very popular choices for holiday stays, offering a subtle blend of period charm and original features with modern comforts. Famillies with children and active youngsters often choose to stay at one of our listed holiday parks or Caravan sites, as they often have a range of activities, swimming pools, play areas etc included on site.
The Western tip of Cornwall is an ideal location for camping and caravan holidays. In this cost conscious climate, Camping is growing in popularity many holiday parks in Cornwall offer camping and touring pitches so whether you have a tent, caravan or motor-home you can enjoy a stunning holiday in Cornwall at a fantastic location with great facilities in Cornwall within easy reach of Hayle.
Cornwall Online has 12 Featured Holiday accommodation, Holiday Rental and B&B properties this area

St Ives Self-catering Holiday Cottage rental


Changeover Day = Fri

Prices from £370 to £660

2 identical holiday cottages, each sleeping 4. 3 bedrooms. Bathroom with shower, fully equipped kitchen, separate dining area, comfortable lounge. Parking on site, large gardens. Quiet location, close to local amenitites. Personally supervised with emphasis on cleanliness and comfort.. Close to beaches at Carbis Bay, St Ives and Hayle. Sleeping 4 & 4

Hayle Self-catering Holiday rental with Sea Views.
Camping and Touring | Camp sites in Hayle with Sea Views.


Location: Hayle
Nearest Beach: 0-1 mile

Online Availability
Credit/Debit Cards Accepted
Parking Available
Sea Views
Swimming Pool


---

Tel: 01736 753080

Click Here for more
information


---

Quality in Tourism / Visit England 4 star

Holidays in Hayle with the benefit of an onsite swimming pool - to help you enjoy your Holiday in Cornwall. A fantastic family holiday park right beside the beach in St Ives Bay, Cornwall. We have holiday Chalets, Bungalows, Lodges, Touring and Camping Pitches.

Gwithian nr Hayle Self-catering Holiday Cottage rental


En-Suite Bed & Breakfast (B&B) Holiday Stays in Hayle with Sea Views.


Sleeps: 7 max.
Location: Hayle
Nearest Beach: 0-1 mile

Credit/Debit Cards Accepted
Pets Welcome
Parking Available
Internet Access
Sea Views
En-Suite Facilities


---

Tel: 01736 754241

Click Here for more
information


---

Prices from £40

Bed and Breakfast at the Mad Hatter - all our rooms have beautiful views overlooking the Hayle Estuary Wildlife Reserve. Ideal location for the avid birdwatchers and ramblers. Close by to Hayle beach - 3 miles of golden sands. ROOMS: One Double/Twin En-Suite Room, | Family Room, Two Double Rooms and One Twin RoomThe Madhatter is a great stop-off point for catching the Scillonian ferry from penzance to the Isles of Scilly.

At Mad Hatter Bed and Breakfast & Tea Rooms in Hayle Pets are Welcome - Dog friendly establishment.

Bed & Breakfast (B&B) Holiday Stays in St Ives with Sea Views.


Sleeps: 3 max.
Location: St Ives
Nearest Beach: 0-1 mile

Pets Welcome
Parking Available
Internet Access
Sea Views


---

Tel: 01736 794654

Click Here for more
information


---

Prices from £30

Comfortable bed and breakfast in St Ives. A ground floor level studio apartment ,sleeping 2/3 persons.Hillcrest is ¾ mile from St.Ives - situated in a quiet residential road,close to local facilities and bus stops.An ideal walking or touring centre.We offer continental breakfasts,or a cooked English on request,at an additional cost.

At Hillcrest Bed and Breakfast in St Ives Pets are Welcome - Dog friendly establishment.

Lelant, St Ives Self-catering Holiday rental


Sleeps: 4 max.
Location: Lelant, St Ives
Nearest Beach: 0-1 mile

Online Availability
Parking Available
Internet Access


---

Tel: 07453976368

Click Here for more
information


---

Changeover Day = Sat

Prices from £525 to £585

Green Trees is light and airy accommodation set back in a quiet,leafy lane in Lelant,10 mins walk from the golden sands of Porth Kidney,regular trains to St.Ives, a golf course and the estuary. A haven of tranquility in a lovely landscape and yet a short hop to lively and beautiful St.Ives.

Hayle, Nr St Ives Self-catering Holiday rental with Sea Views.


Sleeps: 6 max.
Suitable for Large Groups
Location: Hayle, Nr St Ives
Nearest Beach: 0-1 mile

Online Availability
Credit/Debit Cards Accepted
Pets Welcome
Parking Available
Sea Views
En-Suite Facilities


---

Tel: 01736 752594

Click Here for more
information


---

Changeover Day = Sat

Prices from £206 to £981

Lovely self catering apartments and bungalows in peacefull location nestled in the sand dunes of St Ives Bay, surrounded by National Trust conservation areas, with direct access to the coastal road and the A30, Sandbank is an ideal location, whatever your personal holiday passion. Gwithian beach and the South West coastal path can be accessed on foot.

At Sandbank Holidays in Hayle, Nr St Ives Pets are Welcome - Dog friendly establishment.

En-Suite Bed & Breakfast (B&B) Holiday Stays in St Ives Bay, Hayle, with Sea Views.


Sleeps: 10+ max.
Location: St Ives Bay, Hayle,
Nearest Beach: 0-1 mile

Credit/Debit Cards Accepted
Parking Available
Internet Access
Sea Views
En-Suite Facilities


---

Tel: 01736 753777

Click Here for more
information


---

Prices from £40 to £50

AA 4 star Ailver Award

A magnificent bed and breakfast with 5 guest bedrooms in possibility the best position in the St Ives Bay area. All bedrooms are en-suite and all have excellent sea views overlooking St. Ives Bay towards St Ives. We are just 100 yards from the beach and 10 yards from the coastal path. We were recently awarded the AA 4 Star Silver Award for Guest Accommodation.
Contact the Penellen Bed and Breakfast on 01736 753 777

Hayle Self-catering Holiday Cottage rental
Bed & Breakfast (B&B) Holiday Stays in Hayle


Prices from £350 to £650

Eddy Cottage is located one mile outside Hayle in the small hamlet of Wheal Alfred. A traditional two bed roomed detached Cornish cottage, with the benefit of a modernised interior and gas central heating. Bed and Breakfast also available.

Hayle Self-catering Holiday rental with Sea Views.


Sleeps: 6 max.
Location: Hayle
Nearest Beach: 0-1 mile

Online Availability
Parking Available
Internet Access
Sea Views


---

Tel: 07980 584 769

Click Here for more
information


---

Changeover Day = Sat

Prices from £250 to £800

Manhattan is a detached privately owned chalet fully equipped to a high standard throughout sleeping 6 people in 3 double bedrooms. Wonderful views. Only a 5 minute walk from the beach.

Hayle Self-catering Holiday rental with Sea Views.


Sleeps: 4 max.
Location: Hayle
Nearest Beach: 0-1 mile

Online Availability
Pets Welcome
Parking Available
Internet Access
Sea Views


---

Tel: 0208 840 6641

Click Here for more
information


---

Changeover Day = Sat

Prices from £260 to £550

Enjoy a relaxing holiday in our charming comfortable holiday home. A character seaside chalet sleeping 4 people. Situated on the grassy dunes at the Riviere Towans overlooking St. Ives Bay. Far reaching sea views. Only a few minutes walk from 3 miles of golden sands.

At Penelvan in Hayle Pets are Welcome - Dog friendly establishment.

St Ives Self-catering Holiday rental with Sea Views.


Sleeps: 5 max.
Location: St Ives
Nearest Beach: 0-1 mile

Online Availability
Parking Available
Internet Access
Sea Views


---

Tel: 01736 756651

Click Here for more
information


---

Changeover Day = Sat

Prices from £130 to £895

Visit Britain - Quality in Tourism 3 star self-catering

Six, purpose built, self contained holiday apartments are superbly situated at the end of a short private road, away from passing traffic and just 200 m from a wonderful golden sandy beach which stretches for 3 miles around St Ives Bay. 6 Holiday Apartments In St Ives bay each Sleeping 4 to 5 people