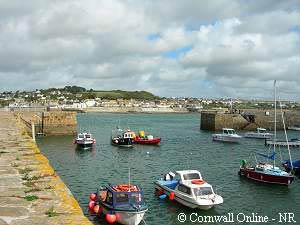 B&B Farm Stays are a popular way of exploring this part of Cornwall. Staying on a farm near Marazion & Mounts Bay, allows you to explore the coastline, discovering a wealth of small coves, harbours and beaches -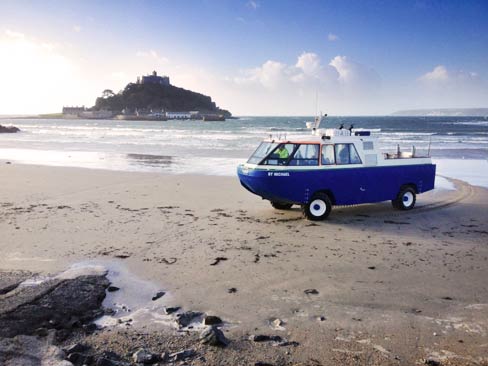 In this cost conscious climate, Camping is growing in popularity many holiday parks in Cornwall offer camping and touring pitches so whether you have a tent, caravan or motor-home you can enjoy a stunning holiday in Cornwall at a fantastic location with great facilities in Cornwall within easy reach of Marazion & Mounts Bay.
Hotel Bed and Breakfast Holidays at St Michael's Mount - Marazion - High quality touring holiday hotel B&B accommodation in Marazion, Penzance, Cornwall overlooking St Michael's Mount - many properties have rooms with stunning views over the bay - some with their own private balconies
It's hard to imagine a more memorable place to stay in Cornwall than Marazion and Mount's Bay. The views of the bay and the magical St Michael's Mount are simply stunning (The BBC even filmed 'Best Views in Britain' from the grounds of a Marazion Hotel).
Being so close to the Gulf Stream means that Holiday Makers a unique climate,, a world away from the hustle and bustle of modern living.
All in all, the Mount's Bay & Marazion Haven is the must experience destination in Cornwall.
If you have never visited West Cornwall before you will find this magical unspoilt part of the world so beautiful your breath will be taken away. The walks along the coast line over the cliffs towards Land's End make you feel you're in another country - the colours, the landscape, the wildness and the beauty will captivate your heart and make you want to return over and over again. There is a peace to be gained here in the natural beauty that will calm the most troubled minds and send you home feeling restored, refreshed and ready to face the real world again. The tropical gardens down here are an especial delight with species growing here that you would never expect to find in the British Isles. The Gulf Stream makes it sub-tropical. You can take a day out to visit the Scilly Isles or take a picnic to the Minack one night and watch a production of a play or musical on amphi-theatre built into cliffs. With the dolphins and basking sharks in the background you will be transported into another world.
Holiday Cottages and Self-catering holiday Apartments and Caravan breaks in Marazion & Mounts Bay provide the perfect location from which to enjoy and explore the sights and sounds that Cornwall has to offer.

Our holiday home rental, Holiday Cottage rental and Self catering accommodation near to Marazion & Mounts Bay are ideal for families who need the flexibility that a self-catering break can offer, allowing you to enjoy your holiday break at a pace that suites you. Self catering holidays in Cornwall give you easy access to Cornwall's attractions, coastline and countryside.

Cornwall Online Offer a variety of self catering accommodation ( Caravans, Holiday Cottages, Campsites and Holiday Apartments) close to Marazion & Mounts Bay. In this region of Cornwall, Holiday cottages and barn conversions are very popular choices for holiday stays, offering a subtle blend of period charm and original features with modern comforts. Families with children and active youngsters often choose to stay at one of our listed holiday parks or Caravan sites, as they often have a range of activities, swimming pools, play areas etc. included on site.