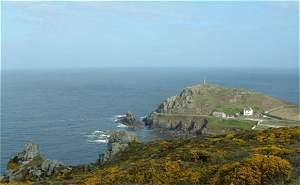 Cape Cornwall



St Just is Britain's most westerly town, mid-way between St Ives and Penzance on the Land's End peninsula, and is an ideal location from which to explore the rugged and beautiful landscape of far western Cornwall.
St Just is a vibrant little town with a warren of terraced streets to explore, in a pleasing and relaxed atmosphere. St Just has ample facilities locally, including late opening shops, free public parking and good bus services and is less than 30 minutes away from St Ives and Penzance and the North and South coasts.
Self catering Holidays and Holiday Cottage
in St Just - Lands End
From St Just you can access West Cornwall's 130 miles of coast-path, to appreciate some of Cornwall's wildest seascapes, from spectacular cliffs and rocky headlands. One mile from Cape Cornwall and the lovely Cot Valley, St Just is just 4 miles from the beautiful sandy bay at Sennen Cove, if you prefer beaches and the surf.
St just is a popular area for Holiday Cottage rental. The lands End Peninsula is a dramatic and picturesque region with many attractions. Renting a Holiday Cottage in St Just or staying in a Self-catering holiday rental or Holiday Caravan, will place you at the heart of this stunningly beautiful region