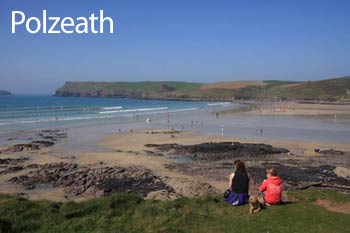 B&B Farm Stays are a popular way of exploring this part of Cornwall. Staying on a farm near Polzeath, allows you to explore the coastline, discovering a wealth of small coves, harbours and beaches -
A holiday in a Touring Caravan or Camping, are growing in popularity many holiday parks in Cornwall offer camping and touring pitches so whether you have a tent, caravan or motor-home you can enjoy a stunning holiday in Cornwall at a fantastic location with great facilities in Cornwall within easy reach of Polzeath.
Holidays in Polzeath - Polzeath beach, is one of England's finest. Polzeath, famous for its surfing, is near Rock, Padstow and Port Isaac, on Cornwall's rugged Atlantic coast.
Self-catering Holiday cottages and Holiday Apartment rental in Polzeath and New Polzeath Cornwall, many of our holiday properties in the Polzeath area have amazing, direct westerly sea views of the Atlantic, overlooking Polzeath Beach and often with direct beach access.
The beach at Polzeath is sandy, flat and level, with low lying cliffs along two sides - that lead up to the centre of the village, with its surf shops and cafes. The beach at Polzeath is patrolled by life guards throughout the main season. The bathing area divided into two main sections, for surfers and swimmers. There is ample parking on the south side of Polzeath, with a large that has some stunning coastal views. The village of Polzeath has toilets, cafes, and shops etc.
Polzeath is located just across the Camel Estuary from Padstow. Close by are the beaches of Daymer Bay and Rock and just around the headland - which features some beautiful walks and the majestic "Rumps" Hill fort - is the popular village of Port Isaac.

The area is the most fashionable of Britain's resorts; the coastline, well protected by the National Trust, is of outstanding beauty. St Enodoc and Roserrow golf courses and a number of notable restaurants including Rick Stein's are close at hand, while Rock and Padstow provide all sorts of water activities. Our holiday home rental, Holiday Cottage rental and Self catering accommodation near to Polzeath are ideal for families who need the flexibility that a self-catering break can offer, allowing you to enjoy your holiday break at a pace that suites you. Self catering holidays in Cornwall give you easy access to Cornwall's attractions, coastline and countryside.

Cornwall Online Offer a variety of self catering Holiday accommodation Choices ( Caravans, Holiday Cottages, Campsites and Holiday Apartments) close to Polzeath and the Cmel Estuary. In this region of Cornwall, Holiday cottages and barn conversions are very popular choices for holiday stays, offering a subtle blend of period charm and original features with modern comforts. Families with children and active youngsters often choose to stay at one of our listed holiday parks or Caravan sites, as they often have a range of activities, swimming pools, play areas etc. included on site.
Cornwall Online has 12 Featured Holiday accommodation, Holiday Rental and B&B properties this area

Polzeath Self-catering Holiday rental


Sleeps: 6 max.
Suitable for Large Groups
Location: Polzeath
Nearest Beach: 0-1 mile

Pets Welcome
Parking Available


---

Tel: 0117 9040655

Click Here for more
information


---

Changeover Day = Fri

Prices from £350 to £1300

Jay is a compact, and well equipped holiday bungalow suited for 4, but can sleep 6. Situated in the heart of Polzeath with a very short level walk (less than 25 yards) to the beach, shops, cafe, restaurant, takeaways and pubs. Jay is tastefully decorated, and fully equipped with all mod-cons.

At Jay in Polzeath Pets are Welcome - Dog friendly establishment.

Rock Self-catering Holiday rental with Sea Views.


Sleeps: 10+ max.
Suitable for Large Groups
Location: Rock
Nearest Beach: 0-1 mile

Pets Welcome
Parking Available
Internet Access
Sea Views
En-Suite Facilities


---

Tel: 07770 847 368

Click Here for more
information


---

Changeover Day = Fri

Prices from £1000 to £5750

An outstanding luxury self-catering holiday home in the spectacular area of Rock just 75 metres from the beach with Wonderful Sea Views across the Camel estuary- sleeps 12 people in 5 bedrooms.
Tomhara as been designed with both open living and relaxed comfort in mind. On the first floor there is a large double aspect living room with the warmth and cosiness of an open fireplace at one end and large picture windows at the other for relaxing and enjoying the spectacular view

At Tomhara in Rock Pets are Welcome - Dog friendly establishment.

Trebetherick, nr Wadebridge Self-catering Holiday Cottage rental


Sleeps: 7 max.
Location: Trebetherick, nr Wadebridge
Nearest Beach: 0-1 mile

Credit/Debit Cards Accepted
Parking Available
En-Suite Facilities


---

Tel: 01208 863843

Click Here for more
information


---

Quality in Tourism / Visit England 4 Star

Highcliffe is a selection of Luxury self catering holiday homes ideally situated within easy walking distance of the best beaches on the North Cornwall coast.

Polzeath Self-catering Holiday rental with Sea Views.


Sleeps: 8 max.
Location: Polzeath
Nearest Beach: 0-1 mile

Online Availability
Parking Available
Internet Access
Sea Views
En-Suite Facilities


---

Tel: 01395 567304

Click Here for more
information


---

Changeover Day = Fri

Prices from £179

Westpoint is an ideal holidya home in Polzeath. Westpoint offers you the chance to enjoy a break in Cornwall in this a detached 4 bedroom house with Fabulous Seaviews overlooking the beach and Coastline at Polzeath.Westpoint is situated on the North Cornish coastal village of Polzeath, which is known for its surfing and wonderful sandy beach. The property is detached and only a 5 minute walk to the beach and the local shops of Polzeath.The fabulous sea view can be enjoyed from most aspects of the house - sleeps 8

Trebetherick Self-catering Holiday rental


Trebetherick Self-catering Holiday rental with Sea Views.


Sleeps: 8 max.
Location: Trebetherick
Nearest Beach: 0-1 mile

Online Availability
Pets Welcome
Parking Available
Internet Access
Sea Views


---

Tel: +44 7970 327 142

Click Here for more
information


---

Changeover Day = Fri

Prices from £395 to £1250

Wesdale is perfectly situated to take full advantage of all the glorious Cornish North Coast has to offer. Beaches, Cornish clotted cream, golf, sea, sailing, surfing, kite surfing, water-skiing, wind surfing, lots of other sports, walks, dining (yes, Rick Stein is just a ferry ride away!), relaxation - you choose and from Wesdale you can easily walk to everywhere! Set right in the middle of Doc Martin and Poldark Country

At Wesdale Holiday Home in Trebetherick Pets are Welcome - Dog friendly establishment.

Rock Self-catering Holiday rental with Sea Views.


Sleeps: 9 max.
Suitable for Large Groups
Location: Rock
Nearest Beach: 0-1 mile

Online Availability
Pets Welcome
Parking Available
Internet Access
Sea Views
En-Suite Facilities


---

Tel: 01392 882344

Click Here for more
information


---

Changeover Day = Fri

Prices from £450 to £1710

Sahara is positioned within 5 minutes walk of the beach and within walking distance of the local amenities and Golf Club. This self-catering house sleeps 9 and has parking for cars and boats, with an outside table + BBQ for the summer and an open fire for the winter. Estuary views.

At Sahara in Rock Pets are Welcome - Dog friendly establishment.

St. Mabyn Self-catering Holiday Cottage rental


Sleeps: 4 max.
Location: St. Mabyn
Nearest Beach: 3-10 miles

Online Availability
Parking Available
En-Suite Facilities


---

Tel: 01208 850538

Click Here for more
information


---

Changeover Day = Fri

Prices from £475 to £840

Visit England / Quality in Tourism 5 star Gold Award

Situated in North Cornwall near Wadebridge just outside the village of St. Mabyn. Polglynn is within easy reach of Rock, Padstow and the Camel Trail. Polglynn offers luxury, spacious en-suite accommodation for up to four people plus cot if required. VISIT BRITAIN 5 star Gold Award

New Polzeath Self-catering Holiday rental with Sea Views.


Sleeps: 10+ max.
Suitable for Large Groups
Location: New Polzeath
Nearest Beach: 0-1 mile

Online Availability
Parking Available
Internet Access
Sea Views
En-Suite Facilities


---

Tel: 01892 722264

Click Here for more
information


---

Changeover Day = Fri

Prices from £305 to £4650

Quality in Tourism / Visit England 5 Star Gold Award

Luxury self catering family holidays, 1 minute from the sandy beaches of New Polzeath, an ideal touring base for discovering Cornwall. Open all year and off season breaks available. Walking, surfing, sailing, cycling and golf. The Eden project, National Trust houses and gardens. Sleeping up to 22 people - 14 and 8

Trebetherick Self-catering Holiday rental with Sea Views.


Sleeps: 10+ max.
Suitable for Large Groups
Location: Trebetherick
Nearest Beach: 0-1 mile

Pets Welcome
Parking Available
Internet Access
Sea Views


---

Tel: 01884 820591

Click Here for more
information


---

Changeover Day = Thur

Prices from £650 to £1950

Situated in Daymer Lane, about 200 yards from Daymer Bay, a large sandy swimming beach, St Enodoc View is a 1920s colonial style house with a secluded mature garden and a veranda and balcony. Well behaved dogs are welcome to stay at the house. Sleeping 12 + people.

At St Enodoc View in Trebetherick Pets are Welcome - Dog friendly establishment.

Port Isaac Self-catering Holiday rental with Sea Views.


En-Suite Bed & Breakfast (B&B) Holiday Stays in St Minver


Sleeps: 6 max.
Location: St Minver
Nearest Beach: 0-1 mile

Online Availability
Parking Available
Internet Access
En-Suite Facilities


---

Tel: 01208 869660

Click Here for more
information


---

Prices from £41 to £60

Visit England / Quality in Tourism 4 star Silver Award

Tregwormond Grange is a working Arable Farm. The farmhouse has far reaching views over open countryside and is situated within short distances of Rock, Polzeath, Port Isaac and Wadebridge.
Three Ensuite Rooms: 2 King Size Double Rooms - 1 Twin Bedroom