Holywell Bay is the ideal base for touring Cornwall throughout the year. Newquay, Perranporth, Truro, St Agnes, St Ives, the Eden Project and Padstow area all easy to reach - within a short drive. Exploring further afield, there are stately homes and gardens, medieval castles and archaeological sites.
Holywell Bay near Newquay, is a picturesque holiday destination with an iconic sea scape created by the twin Gull Rocks in the Bay. This is a great family beach with sand dunes at the entrance - opening out into a beach that is nearly 1 mile long . A firm favourite with families as well as a popular and fabulous surfing beach - Holywell Bay is is a clean and safe swimming beach. Trerice House (NT) is close by, an ideal diversion on an afternoon, as is a trip to nearby Newquay, where you can experience life at a slightly higher pace.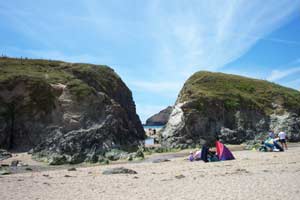 Holywell bay has many Holiday Cottages and Self-catering holiday Apartments. Holiday Cottages and and Caravan Holidays in Holywell Bay provide the perfect location from which to enjoy and explore the sights and sounds that Holywell Bay, Perranporth and Newquay has to offer. This is a dramatic Atlantic Coastline, with stunning coastal scenery, dramatic cliffs, long sandy beaches backed by sand dunes and washed by Atlantic Rollers, ideal for surfing.
Our holiday home rental, Holiday Cottage rental and Self catering accommodation near to Holywell Bay are ideal for families who need the flexibility that a self-catering break can offer, allowing you to enjoy your holiday break at a pace that suites you. Self catering holidays in Cornwall give you easy access to Cornwall's attractions, coastline and countryside.
Cornwall Online has 8 Featured Holiday accommodation, Holiday Rental and B&B properties this area

Cubert near Newquay Self-catering Holiday rental with Sea Views.
Self-catering Holiday Caravan accommodation in Cubert near Newquay. with Sea Views.


Newquay Self-catering Holiday rental with Sea Views.
Self-catering Holiday Caravan accommodation in Newquay. with Sea Views.
Camping and Touring | Camp sites in Newquay with Sea Views.


Prices from £145 to £750

Visit England/Quality in Tourism 3 star Holiday park

A small private site sheltered by trees and bordered by a small stream. We have bungalows and caravans available to accommodate up to six people. Only a 300m stroll to a large, sandy, lifeguard patrolled beach ideal for surfing and bathing. Campsite - Holiday Caravans - Chalets - selfcatering Bungalows

At The Meadow Holiday Park in Newquay Pets are Welcome - Dog friendly establishment.

Newquay Self-catering Holiday rental with Sea Views.


Holywell Bay Self-catering Holiday rental with Sea Views.


Sleeps: 5 max.
Location: Holywell Bay
Nearest Beach: 0-1 mile

Online Availability
Parking Available
Sea Views


---

Tel: 01637 873083

Click Here for more
information


---

Prices from £185 to £900

Situated in a quiet cul-de-sac, this peaceful semi-detached holiday bungalow sleeps four people (plus a cot), stands on private ground and is approximately 2 minutes from Holywell Bay beach. The property was refurbished in 2007. Sleeps 4

Holywell Bay Self-catering Holiday rental with Sea Views.


Perranporth Self-catering Holiday rental


Sleeps: 5 max.
Location: Perranporth
Nearest Beach: 0-1 mile

Online Availability
Parking Available
Swimming Pool
Bar
Restaurant

---

Tel: 07775 572 339

Click Here for more
information


---

Changeover Day = Sat

Prices from £150 to £695

Holidays in Perranporth with the benefit of an onsite swimming pool - to help you enjoy your Holiday in Cornwall. Two bedroom well apointed Holiday chalets situated on the Perran Sands Haven site - in a quiet location. Within easy walking distance to all amenities including on site swimming pool and facilities and night clubs. Just 10 mins walk to beach!

Holywell Bay, near Newquay Self-catering Holiday rental with Sea Views.


Sleeps: 6 max.
Location: Holywell Bay, near Newquay
Nearest Beach: 0-1 mile

Parking Available
Internet Access
Sea Views


---

Tel: 01637 830031

Click Here for more
information


---

Changeover Day = Sat

Prices from £465 to £1300

Self catering holiday bungalow set in its own private and secluded gardens, with lovely views over the dunes and sea views over the bay, within easy walking distance of the beach, a 3/4 mile stretch of golden sands -excellent for surfing and bathing. An ideal base for a relaxing holiday and for touring Cornwall. Sleeps 6 people

Holywell Bay Self-catering Holiday Cottage rental with Sea Views.


Sleeps: 4 max.
Location: Holywell Bay
Nearest Beach: 0-1 mile

Parking Available
Internet Access
Sea Views


---

Tel: 07974 381319

Click Here for more
information


---

Changeover Day = Sat

Prices from £295 to £707

Holiday Cottage near Holywell Cornwall delightful barn conversion comprising two one-bedroom cottages. Within walking distance of two of the most picturesque Cornish beaches. Recently refurbished to a high standard. Each cottage comprises a lounge, kitchen, shower and bedroom. Two cottages each sleeping 2 people