Bryher
Bryher is a peaceful little island, home to the smallest of all the communities that can be found on the isles of Scilly. The waters around Bryher are very safe and clear and ideal for diving and snorkelling.
The character of this little island changes dramatically with the seasons; during the warm months of springtime, the island bursts into life with an abundance of colour filling the hedgerows and fields with the fragrant blooms of wild flowers - daffodils and narcissi.
Migratory birds stop over during the cooler autumn months, using Bryher as a staging post on their long seasonal treks to winter-feeding grounds. Winter heralds the onset of the fierce Atlantic storms - which lash the rocks on the northern and western shores - making Hell Bay an awe-inspiring sight and creating some very dramatic rock formations along the low heather heathland of Shipman Head Downs.
Whilst the north-western aspect of the island is dominated by rugged landscapes, the south eastern shores are sheltered from the ravages of the Atlantic gales creating beautiful beaches such as Rushy Bay, which looks out towards the uninhibited island of Samson The eastern shoreline is a sheltered channel that runs between Bryher and neighbouring Tresco. You will find the island's two quays in this sheltered waterway.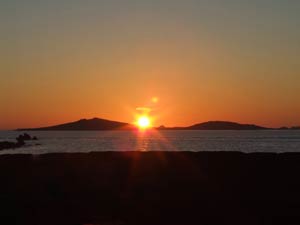 Bryher has one of the best vantage points in the whole of the Isles of Scilly - from the top of the appropriately named Watch Hill, where, in the past, islanders kept watch for ships in distress or requiring a pilot to guide them up the South Western Approaches.
Visitors to the island will find a range of high quality accommodation in the hotel, small guest houses, self-catering cottages and campsite. Bryher has a shop, sub-post office, café and licensed restaurant, with a public bar at the hotel.