The Outdoor Landscape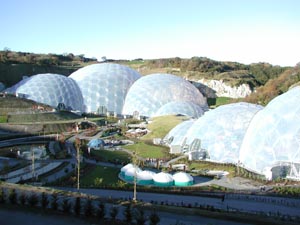 The south facing slopes of the old clay pit have been transformed into a series of terraces, featuring plants that have changed the world.
The terraces feature plants that we can eat, drink wear and use in our everyday lives. This is a developing exhibit, which will continue to grow and mature over the coming years.
The terraces feature plants that have moved around the world, such as the potato and the tomato, as well as, plants that are used for health. There are tea bushes brought in from India and wheat from all parts of the world.
Cornwall also has a strong presence in this Outdoor Landscape. The plants of Cornwall's Atlantic Woodlands and Cornish Heathland are represented on the curved terraces. Farmland habitats and the Cornish hedge are present, along with examples of the Endangered species that cling to existence in the county, such as the rare English Gentian and the Lichen, Heterodermia isidiosphora, which is now only found in one secret location in the county.
The terraces are punctuated by sculptures, such as Robert Bradford's 'Pollination, a large bee sculpture. There are yurts set up as educational and information centres throughout the site, with displays about the uses of rubber and the fascinating world of plants. A lake in the base of the pit provides a tranquil spot to sit and relax, as you wander through the many terraces.
---