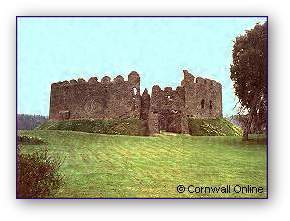 The castle, originally built by the Normans on a spur, overlooking the river valley, stands proudly one mile upriver from Lostwithiel. You can still make out the ruins of Restormel's keep, gate and Great Hall, and even the kitchens and private rooms. They were built around 1100, making Restormel one of the oldest and best preserved Norman motte-and-bailey castles in Cornwall. The castle was rebuilt by Edmund, Earl of Cornwall in the late 13th century, as a splendid residence for himself. The bailey (a large courtyard where the retainers lived) has now disappeared, so has the deer park, where Edmund kept 300 deer. The Black Prince held court here briefly in 1354.
Restormel's defences were perfect. The castle was built behind a 17 metre moat, upon slopes which were artificially steepened. These clearly acted as a powerful deterrent, for Restormel has seen action only once during its long history in 1644, when Charles I's forces drove out the Parliamentarian garrison during the Civil War.
The Castle still belongs to the Duchy of Cornwall. It is administered by English Heritage and is open to the public. Various events are staged here from time to time, bringing history to life. The views over the valley from the top of the castle wall are magnificent.
In the spring, Restormel Castle is surrounded by banks of daffodils and bluebells. It lies a mile to the north of the attractive medieval town of Lostwithiel.


English Heritage Sites in Cornwall:

Chysauster Ancient Village | Launceston Castle | Lostwitiel Castle | St. Mawes Castle | Pendennis Castle | Tintagel Castle