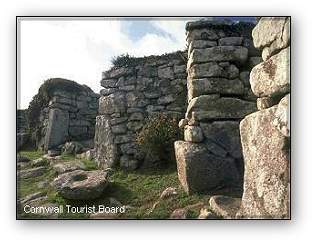 Chysauster contains many of the hallmarks of the traditional Cornish village, right down to the street of neat stone cottages with terraced gardens. The remarkable thing is that the inhabitants lived here nearly 2000 years ago. Chycauster is an example of a courtyard village, consisting of a number of stone-built houses. Each house has a stone-paved courtyard surrounded by rooms and byres, the whole complex enclosed within a stone wall. Outside are the stone-walled fields belonging to the settlement.
This late Iron Age, village is believed to have been in use up until and during the Roman occupation. There are nine large oval houses, many of which are very well preserved. The plan is that of an open courtyard with a round living room opposite the entrance and a long narrow room along one side wall, but many houses at the site are built in pairs, with circular living rooms and smaller rooms off, which may have been used for storing food or keeping animals.
The main rooms feature a central flat stone socket hole, for a wooden post to support the thatched roof. At the site, you can see the remains of open hearths, stone basins for grinding grain, and covered drains. Each of the houses at Chysauster feature terraced gardens.
The site also has a fogou (Cornish for cave), an underground passage. The fogou at Chysauster is in a derelict state and not as spectacular as the one that can be seen at Carn Euny.


English Heritage Sites in Cornwall:

Chysauster Ancient Village | Launceston Castle | Lostwitiel Castle | St. Mawes Castle | Pendennis Castle | Tintagel Castle