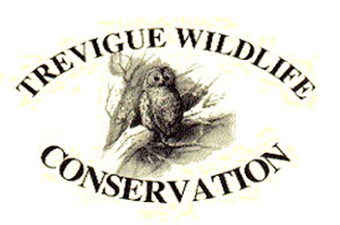 Fabulous Wildlife &
Walking Breaks
Join a small group of like minded people on a spectacular North Cornish coastal farm to observe an array of wildlife and learn about the sensitive conservation management taking place on this special farm and have guided access into 2 large reserves.
Meals will be in the farm's highly acclaimed restaurant.
Take part in an exciting nocturnal nature trail where we regularly have close encounters with badgers.
Much wildlife may be seen including birds of prey, seals, badgers and dormice, basking sharks and dolphins.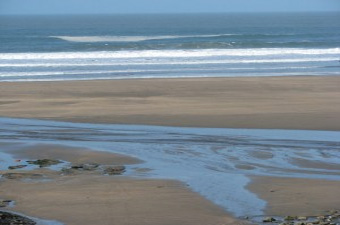 Wild flora and fauna at Trevigue is abundant throughout the year – here is a brief guide to what you might be most likely to see:
During the winter months i.e. mid September to late March, spectacular wildlife is to be seen.

White coated seal pups can be seen on the beaches, suckling their mothers during the Autumn months.

Badgers are easily observed right up until the end of the year. (May to November is the best time)

The cool winter/early spring months are a great time to see groups of seals from the cliffs at Trevigue whilst they are moulting.

Spring/late winter and early summer is a fantastic time to see the hedges, verges and ancient woodland around the farm alive with flowers. From late January (snow drops), February (daffodils), March (primroses), April (bluebells)

Swallows seem to return earlier each year and are numerous by mid/late April. Great fun is also to be had looking for young badger cubs who are venturing above ground and are more bold than their wary older relatives.

Mid-summer is my favourite time of year with badger cubs at their most confident and curious; together with the remarkable spectacle of the numerous fluorescent green lights of glow worms.

In recent years Francis and his guests have observed more basking sharks than ever before from the cliff tops – another sign of Global Warming, as they follow plankton further north. (May – September is the best time to see sharks).

During early Summer many wonderful sea birds, including guillemotts, razorbills and puffins are to be found in the immediate area.

Another spectacle of summer is the sight of roe deer bucks chasing does during the rutting season.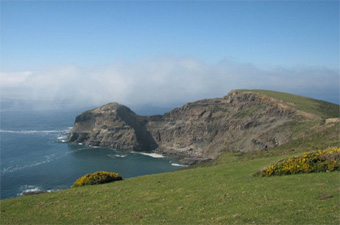 Strangles Beach
A secluded beach – "The Strangles" is located below the farm and a walk to see the unique geology of the area including spectacular sea stacks and wave cut arches, plus the strong possibility of grey seals and dolphins is recommended