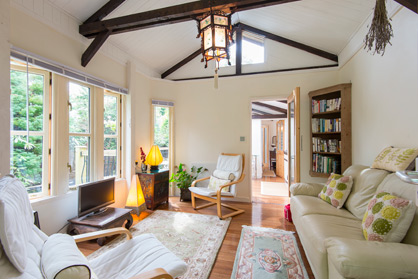 The Tea House
sleeping 2 people
Weekly Booking only in July/ Aug
Our latest new Eco build!

" If you like George Clarks Amazing Small Spaces, you will love this one!"
Built overlooking an impressive lily pond, with good sized deck, surrounded by mature trees & sub tropical plants, like the huge Gunnera. It has a high spec package of green credentials & a luxury feel.
A modern build with an Oriental Pedigree.
"A unique private retreat, for that "special holiday/break" Sip a cocktail on the deck, as the sun goes down. Wet Room " Like being in the Maldives "(Guest Comment.)
Enjoy the extensive woodland garden & Ancient stones. Situated close to Mounts Bay, and the famous St Michael's Mount. Marazion , Penzance, St Ives, and it's many beaches, and Water Sports. x2 Pubs in walking distance .


Foxy - Shepherd's Hut
sleeping 2 people
Weekly Booking only in July/ Aug
Glamping in our latest new Eco build! - with Eco wood burning Hot Tub
Nestled in our very own Cider orchard, part of a 4+ acre woodland garden. A delightful cosy rural retreat, for that Ďback to nature experienceí. Try star gazing from the purpose made deck, listening to the dawn chorus, or simply chilling out and enjoying the views over the orchard and woodland below.
Plus! a Kernow Springs eco wood burning Hot Tub, for that ďBack to Nature experience ď Relax & take a dip under the stars!
The Shepherd's Hut offers Holidays in basic rustic accommodation in a beautiful rural setting. If you want 5* this is not for you! If you appreciate Nature & the simple life,& donít mind the odd fly or spider, then you will love Foxy & the wood burning hot tub.