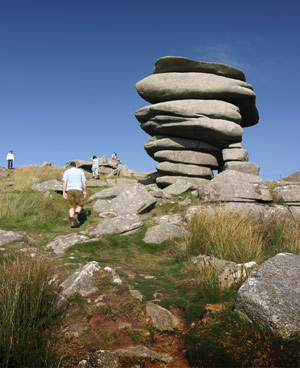 B&B Farm Stays are a popular way of exploring this part of Cornwall. Staying on a farm near Bodmin Moor, allows you to explore the coastline, discovering a wealth of small coves, harbours and beaches -
In this cost conscious climate, Camping is growing in popularity many holiday parks in Cornwall offer camping and touring pitches so whether you have a tent, caravan or motor-home you can enjoy a stunning holiday in Cornwall at a fantastic location with great facilities in Cornwall within easy reach of Bodmin Moor.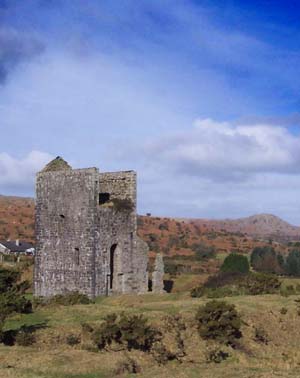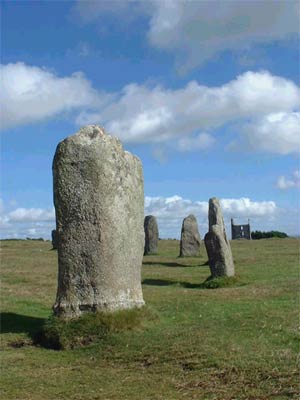 Bodmin Moor is divided into a north and south section by the A30 trunk road, which passes over the centre of the Moor - between Launceston and Bodmin.
The Highest point of the moor, "Brown Willy" and its neighbour "Roughtor" can be seen from the A30 as you approach The famous Jamaica Inn made famous by the Daphne du Maurier novel.
Brown Willy at at 420m (1378 ft), is the highest point in Cornwall . The original name "Bronn Wennili", means "hill of swallows" but the old Cornish word has become distorted over many years to, Brown Willy.
There are scenic walks around both Rough Tor ( pronounced router) and Brown Willy.
The southern section of the moor is dominated by caradon Hill and the transmiter mast. To the North of the hill is the village of Minions. The heritage centr reflects the mining history of the area, in a landscape dominated by Engine houses and old workings. Tho the west of the village is the Hurlers, a unique collection of three stone circles. From the hurlers the track leads across the moor to the Cheesering and Stowes Pound ( see photos above) an Ironage Hillfort that overlooks the moor. The moor has numerous bell pits, where tin and copper have been quarried, as well as examples of Moor Stoning - cutting granite outcrops for building. This is a unique landscape that visitors to Cornwall should take time to explore.
The Moor does has a tendency to "Fog Over" so any one walking the area should have a map and compass.
Siblyback Lake provides watersports, the reservoir feature a 2 to 3 mile circular walk on level paths, as well as fishing, dingy sailing and water skiing. There is a cafe on site, as well as an child's play area.
Holiday Cottages and Self-catering holiday Apartments and Caravan breaks in Bodmin Moor provide the perfect location from which to enjoy and explore the sights and sounds that Cornwall has to offer. Bodmin Moor has a central location with easy access to Cornwall's North and South coasts.

Our holiday home rental, Holiday Cottage rental and Self catering accommodation near to Bodmin Moor are ideal for families who need the flexibility that a self-catering break can offer, allowing you to enjoy your holiday break at a pace that suites you. Self catering holidays in Cornwall give you easy access to Cornwall's attractions, coastline and countryside.