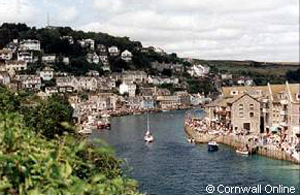 B&B Farm Stays are a popular way of exploring this part of Cornwall. Staying on a farm near Looe, allows you to explore the Rame peninsula coastline, discovering a wealth of small coves, harbours and beaches -
In this cost conscious climate, Camping is growing in popularity many holiday parks in Cornwall offer camping and touring pitches so whether you have a tent, caravan or motor-home you can enjoy a stunning holiday in Cornwall at a fantastic location with great facilities in Cornwall within easy reach of Looe.
Looe and Whitsand Bay in Cornwall
Looe and the picturesque Whitsand Bay in Cornwall are ideal family holiday destinations with panoramic views over Looe Bay and the rame peninsula setting creating a stunning back drop to this holiday destination. This area is ideal for divers to explore HMS Scylla. Holiday Cottages and Self-catering holiday Apartments and Caravan breaks in Looe provide the perfect location from which to enjoy and explore the sights and sounds that Cornwall has to offer.

The Rame Peninsula in South East Cornwall is a picturesque holiday destination, close to the river Tamar, Plymouth Sound and the historic city of Plymouth - where you can visit the marinas, the city centre shopping area, the National Marine Aquarium or Plymouth Hoe and The Barbican, famous for its connections to our maritime past - Sir francis Drake, the armarda etc.. Our holiday home rental, Holiday Cottage rental and Self catering accommodation near to Looe are ideal for families who need the flexibility that a self-catering break can offer, allowing you to enjoy your holiday break at a pace that suites you. Self catering holidays in Cornwall give you easy access to Cornwall's attractions, coastline and countryside.

Cornwall Online Offer a variety of self catering accommodation ( Caravans, Holiday Cottages, Campsites and Holiday Apartments) close to Looe. In this region of Cornwall, Holiday cottages and barn conversions are very popular choices for holiday stays, offering a subtle blend of period charm and original features with modern comforts. Families with children and active youngsters often choose to stay at one of our listed holiday parks or Caravan sites, as they often have a range of activities, swimming pools, play areas etc. included on site.
Cornwall Online has 8 Featured Holiday accommodation, Holiday Rental and B&B properties this area

Looe Self-catering Holiday rental with Sea Views.


Sleeps: 6 max.
Location: Looe
Nearest Beach: 0-1 mile

Online Availability
Parking Available
Internet Access
Sea Views
En-Suite Facilities


---

Tel: 01483 277894

Click Here for more
information


---

Changeover Day = Sat

Prices from £700 to £1450

Luxury family holiday accommodation sleeping 6. Located on the coastal path with beautiful views of the sea and Looe Island. Local beaches within a few minutes walk, and only a 10 minute drive from Looe with its restaurants and inns. Reduced rates for couples - out of Season Breaks. Visit Britain 4 star Gold Award - Sleeps 6

Looe Self-catering Holiday rental with Sea Views.
Self-catering Holiday Caravan accommodation in Looe. with Sea Views.


Sleeps: 10+ max.
Location: Looe
Nearest Beach: 0-1 mile

Online Availability
Parking Available
Sea Views
Swimming Pool


---

Tel: 0871 641 0191

Click Here for more
information


---

Holidays in Looe with the benefit of an onsite swimming pool - to help you enjoy your Holiday in Cornwall. Looe Bay Surrounded by scenic countryside and close to pretty fishing villages, this holiday park is an ideal base for exploring South East Cornwall.

En-Suite Bed & Breakfast (B&B) Holiday Stays in Looe with Sea Views.


Sleeps: 10+ max.
Location: Looe
Nearest Beach: 0-1 mile

Online Availability
Credit/Debit Cards Accepted
Parking Available
Internet Access
Sea Views
En-Suite Facilities


---

Tel: 01503 240738

Click Here for more
information


---

Prices from £38 to £42.5

AA 4 Star, Gold award

Six en-suite luxury bedrooms with sea and rural views, Set in an exceptional peaceful location Bucklawren Bed and Breakfast has a large spacious lounge to relax, and all bedrooms are equipped with tea and coffee facilities, fridges, TVís and hairdryers. All you need for a relaxing stay. Sleeps 12 +

Polperro Self-catering Holiday Cottage rental with Sea Views.


Sleeps: 6 max.
Location: Polperro
Nearest Beach: 0-1 mile

Online Availability
Pets Welcome
Parking Available
Internet Access
Sea Views


---

Tel: 01503272034

Click Here for more
information


---

Changeover Day = Sat

Prices from £662 to £1506

Teak cottage is a characterful cottage in the heart of the picturesque village of Polperro. Built from teak washed up in a mid 19C ship wreck, it enjoys spectacular sea views over the harbour and sea beyond. It is located within a 5 minute walk of Polperro's numerous historic pubs, cafes and galleries.

At Teak Cottage in Polperro Pets are Welcome - Dog friendly establishment.

Polperro Self-catering Holiday rental


Cornwall Self-catering Holiday Cottage rental with Sea Views.


Sleeps: 10+ max.
Suitable for Large Groups
Location: Cornwall
Nearest Beach: 0-1 mile

Online Availability
Credit/Debit Cards Accepted
Pets Welcome
Parking Available
Internet Access
Sea Views


---

Tel: 01208 893 980

Click Here for more
information


---

Cornish Traditional Cottages have been letting holiday homes in Cornwall since 1964. We are a small, independent family run business and let cottages, houses, and anything in-between across the County we call home. Coastal or inland, Launceston to Lands End book your next Cornish break with a local Cornish business

At Cornish Traditional Cottages in Cornwall Pets are Welcome - Dog friendly establishment.

Talland Bay Self-catering Holiday rental with Sea Views.


Sleeps: 8 max.
Suitable for Large Groups
Location: Talland Bay
Nearest Beach: 0-1 mile

Online Availability
Credit/Debit Cards Accepted
Pets Welcome
Parking Available
Internet Access
Sea Views
Swimming Pool


---

Tel: 01503 272715

Click Here for more
information


---

Changeover Day = Fri + Sat

Prices from £550 to £1900

Quality in Cornwall

Holidays in Talland Bay with the benefit of an onsite swimming pool - to help you enjoy your Holiday in Cornwall. Talland Bay lies between Looe and Polperro and is one of the most memorable and secluded coves along the coastline of South Cornwall. It has three small beaches flanked by a rocky foreshore and a beautiful undeveloped coastline and is sheltered and safe for swimming.

At The Bay, Talland in Talland Bay Pets are Welcome - Dog friendly establishment.

cornwall Self-catering Holiday Cottage rental with Sea Views.


Sleeps: 10+ max.
Suitable for Large Groups
Location: cornwall
Nearest Beach: 0-1 mile

Online Availability
Parking Available
Internet Access
Sea Views


---

Tel: 01428 723819

Click Here for more
information


---

Holidays Cottages on the cornish Coast - enjoy a break in a stunning Cornish coastal location - explore the beautiful beaches and coves of the Cornish Coast