Retired page for YMCA Penzance Backpackers' Hostel. The Penzance YMCA advertised Backpackers Accommodation in Penzance on the page between january 1999 and January 2015.
YMCA Penzance Backpackers' Hostel offered affordable overnight accommodation on this advert in a comfortable and convenient location, perfect for exploring West Cornwall, The Lands End Peninsula and the Isles of Scilly.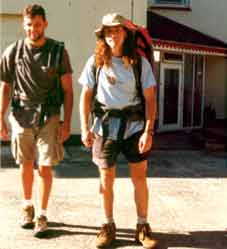 The YMCA is more than just a hostel for backpackers, we can help with housing, offer sporting facilities as well as providing an Internet cafe with Broadband connection which is open to all.
You don't have to be Young, Male or Christian to enjoy the facilities of the YMCA. The Penzance YMCA welcomes people of all ages, genders, disabilities, regardless of race or creed.

MISSION STATEMENT - YMCA Cornwall is part of an International Christian Movement with recognises the equal value of all people. It seeks to serve the communities in Cornwall with an emphasis on the young, by providing them with a stimulating and supportive environment enabling them to enrich their lives and the lives of others.
The Accommodation
The Penzance YMCA offered a total of 53 bedspaces - managed by a highly experienced Hostel Team - who will make every effort to make all our guests and customers feel comfortable.
The site and carpark is covered by CCTV . Penzance YMCA could offer some parking spaces for visitors who are travelling on to the Isles of Scilly.
The accommodation consists mainly of dormitories sleeping 4 or 6, in bunk beds. We have one single room and four twin room. Separate male and female shower and toilet facilities are available within the accommodation area
The Penzance YMCA site is set in its own landscaped garden, complete with sunny patio and picnic area and laundry room. There is a spacious common room with tables and chairs, tv and Internet access.
A light breakfast of juice, cereals, toast and tea or coffee is included in our accommodation prices. There is a small, well-equipped backpackers' kitchen for guests who prefer to cater for themselves. For larger groups we can provide full catering: breakfasts, and evening meals, served in our large airy dining room, with the option of packed lunches for days out.

Male and female showers and toilet facilities are also available within each accommodation area. As well as this, we have a variety of other rooms which can be used for meetings or conferences.
Wholesome meals are served for group bookings in the dining room, which can seat up to 85 people. Vegetarian and other dietary requirements can be catered for upon request. We can assist in the planning and organising of your visit especially for national and international groups.
The YMCA centre is regularly used for group holidays, field studies, activity holidays, art and archaeology trips and day or residential conferences. The YMCA has been serving the communities of Penwith since 1893 providing an ideal base for you to discover all that the area has to offer.
West Cornwall offers you the chance to chill out and relax, to surf, rock climb, walk, swim, deep sea dive, fish, horse ride, bike ride and to visit galleries, small harbours and villages, experience the famous open-air clifftop theatre at The Minack, and many tourist attractions in the area including the Eden Project in St Austell, just a short train ride away.
PENZANCE & LANDS END
The YMCA Backpackers' Hostel is situated in a quiet residential area at the western end of Penzance. We are a short walk from the Promenade and buses to Land's End and other parts of the Penwith peninsula stop close by.
It is a 20 minute walk to the centre of Penzance where there are plenty of interesting shops, pubs, cafes and restaurants. We are also a 20 minute walk from the bus and train stations and the Isles of Scilly Ferry.