Windsurfing in Cornwall  
THE NORTH COAST
The scenic launch site at Rock opposite Padstow halfway up the tidal Camel Estuary is a spot ideal for all levels of windsurfing abilities from beginners on long boards to expert short boarders. There is plenty of good parking with easy access to the beach. Be prepared to pay harbour dues to the harbour master. Check out the local tide times as this venue is only enjoyably sailed a maximum of two hours before and after high tide, due to the shallow sandy bottom which dries out save for a narrow channel. The ideal wind directions for cross shore sailing are NW and SE. Competent sailors can sometimes be found launching from Rock and sailing down the estuary around Bray Hill to Daymer.
Daymer Bay - Just around the corner from Rock towards Polzeath is arguably one of the best windsurfing spots in the country. This venue is ideal for most short boarding levels of ability offering both flat slalom conditions at low water to great waves. Driving from Rock towards Polzeath on the coast road turn left at Trebetherick - just before the old style Red Phone Box and Kite shop - and it will take you down to the beach. Windsurfing at Daymer Bay can only easily be accessed through one private car park, which has recently started charging a launch fee per windsurfer on top of the parking fee. This does, however, provide only a minor distraction as this venue works on many wind directions from S through W & NW & N. Even a strong NE on lower states of the tide can be sailed. Real care should be taken on an ebbing tide (out going) as the tidal current is exceptionally strong and many competent sailors have been caught out here. On an incoming tide many unsuspecting sailors have also been caught out under the imposing Bray Hill at the southern end of the beach but staying a reasonable distance away will lead to many hours of trouble free sailing. For sailors looking for waveriding and jumping, SW and NW are the best direction for sailing over to the other side of the bay and playing around Doom Bar. For anyone looking for a slightly more forgiving introduction to wave sailing it is best to play around just off the main beach as any swell will provide a small well-spaced wave from around 3/4 to high tide. If the coast is totally maxed out and unsailable then this spot is definitely a good bet.
Harlyn Bay for experienced wave sailors looking for cross shore conditions, Harlyn could be one to try if the wind is from W or possibly WNW. Due to the cliffs on either side the wind tends to be fairly gusty here. Also, watch out for a dumping wave at low tide.
Constantine Bay another spot suited to experienced wave sailors in a SW. The best approach to the beach is via the southern route and it is best sailed on a rising tide from low water as there is a severe rip on an outgoing tide. Do not sail or drift too far down wind as this could lead to an inevitable rock climb. It is worthwhile taking time out to have a chat to the life guards - if they are on duty - concerning the prevailing conditions.
Watergate Bay -This two mile long west facing beach can lay on some good conditions for intermediate or better wave sailors. The best conditions are generally from low to 3/4 tide (although can be sailed from 3/4 tide to low) in a SW or WSW wind. With a reasonable ground swell running it can produce quite a heavy wave.
Newquay - Fistral Beach is probably more famous for its surfing, but can provide a great spot for intermediate or better short boarders. The quality of the wave here, as at Watergate, will depend largely on whether it has been wind generated (northerly) which tends to lead to a more bumpy and agitated sea state, or a ground swell which leads to a much cleaner wave. A N or NE wind comes over the headland on the right and can be quite gusty and is best sailed from low to 3/4 tide. A SW wind coupled with a solid ground swell can provide some quite awesome conditions. The wind can be a little fickle on the inside at times and waves of over mast high have been saiied here but only by the expert few. Watch out for a severe rip that has put even the best sailors on the rocks on an incoming tide. It takes you from left to right straight onto the rocks under the imposing Headland Hotel.
Crantock - An easy wave sailing spot in a W wind, but should only be sailed on a rising tide. With an ebbing tide it couples with the river on the beach to take any unsuspecting water user straight out to sea!
Perranporth - For the serious, knowledgeable and experienced, Perranporth can be sailed from low to mid tide in S, SW, N and NE. Watch out if the swell is over 4 ft (1.2m) as the rips and undertow can be strong.
Perran Sands - Few wave sailors regularly sail here but those that do have sampled some of the biggest, fastest and heaviest waves on the "North Shore" of Cornwall. For experienced sailors only. Access to the beach is arduous and can be reached by driving through Perran Sands Holiday Park until you get to the top of the sand dunes A 10 minute walk carrying all the kit you are going to need is then required to take you down the sand dunes to the water's edge. A government health warning should go with this spot as you will have to walk up again after you have finished and it is hard enough when you have not been sailing and don't have the burden of kit as well! In a S, SSW or strong N wind the rewards are certainly worth the effort. This uncrowded spot has been known to lay on perfect cross-shore wave sailing at its very best. It is sailable on most states of the tide although winds can be erratic at high tide.
Lakes and Reservoirs
Siblyback Lake - nr Liskeard - 140 acre lake set in a scenic valley some 200m up on Bodmin Moor and currently the major inland watersports venue in the South West. It is only about 25 miles from the centre of Plymouth and is easily reached in under 30 minutes along the A38, much of which is now dual-carriageway. It is signposted from the A38 at Dobwalls with brown tourist signs.
The prevailing winds are channelled up the valley and give consistent cross shore conditions making Siblyback popular with high performance windsurfers when the wind is up. On less blustery days, the surrounding tors of Bodmin give a sheltered lake for beginners and improvers. The Peninsula Watersports Centre offers tuition at all levels on first class equipment and there is always equipment available for hire. There is also a day launch facility, provided you have suitable Third Party insurance, for all types of craft. Other facilities include rescue boat cover during the day, showers and changing rooms and a teashop, situated above the watersports shop, open during the summer.
Roadford Watersports Centre - nr Liskeard - The newest and largest water resource to be built in the South West offers over 400 acres for watersports with full windsurfing tuition available.
Tamar Lakes Waterpark - Bude - Situated on the border between Devon and Cornwall, it is well placed to cater for the holiday trade of North Cornwall and is signposted from the A39(T) at Kilkhampton.
The Watersports Centre - is situated at the 80 acre Upper Lake and provides an excellent all round venue for expert and beginner alike. In light winds the lake provides the perfect introduction for windsurfers, and lessons from qualified instructors are available. There is a good range of hire equipment and a rescue boat. There are showers and changing facilities, ample lakeside parking and easy launch facilities as well as a children's play area, trout and coarse fishing and a teashop to ward off the cold.
FAR WEST
Gwithian - This venue is synonymous with down the line wave sailing in the UK. Parking on top of the cliffs you can look west across the gentle curving St Ives Bay from the harbour town of the same name to the stark white lighthouse on Godrevy Point. In front of the car park is a slippery cliff descent - known locally as the "goat track" - taking you down to the beach. Here, from low to mid tide, you can enjoy some relatively safe wave sailing, obviously dependent on the size of the swell. The main beach can be reached by a less severe, but longer path. For those sailing in front of the car park, when the tides touches the rocks it is time to head down towards Godrevy Lighthouse to the main beach or the Red River. Care needs to be taken with a daunting shore break that dumps progressively more viciously as high tide draws near. SW and SSW winds provide the ideal conditions for port tack jumping and great front and backside wave riding. NE winds can also provide some wave sailing or, if the swell is not up to much, simply great blasting across the whole of St Ives Bay. In this direction it is best to launch from Godrevy car park, the other side (east) of the Red River.
As you head west around the bay the swell size reduces in stature towards Upton Towans, just a short drive west.
Upton Towans - If the wind is a little too onshore at Gwithian, nip west along the coast road to the St Ives Bay Holiday Caravan Park at Upton. Please drive slowly through it and the road will take you to the back of the dunes. In front of you is an expanse of sand in both directions with a slightly less severe wave than Gwithian but a relatively safe spot for the accomplished wave sailor. The only hazards to watch out for are two obvious rocks on the sandy beach. It is best avoided at high tide as the swell gets pretty out of control with a strong rip.
Hayle The Bluff - Moving further west to the entrance of the Hayle Harbour Mouth, a drive down to the hospitable Bluff Public House overlooking the beach provides an ideal car park and a refreshment stop for possibly one of the best wave riding spots in Europe. This location certainly requires respect even from the experienced wave sailor when the waves build fast and powerfully over the sand bar. (Best about two or three hours after low tide, is worth having a chat with the life guards on the way down to the beach. On an ebbing tide there is a severe down wind rip which only slows as low tide approaches. Watch out as high tide arrives since the beach at the bottom of the access path disappears and can make recovering a little on the exciting side! It works best from SW to NW and is an excellent port tack jumping spot with reasonable spacing between the waves.
Carbis Bay - Sailors looking for a good intermediate mild wave sailing spot in a NW should try Hawkes Point just over the Hayle river from The Bluff. Watch out for a vicious shore break and a slightly unpredictable wind on the inside but it can be a great spot when conditions are extreme.
Porthmeor - A good spot to get some wave sailing in a WNW wind. It is worth checking out when the tide is dropping from half tide or when it is rising from low tide. Watch out for the wrecked ship in the middle of the beach and also be aware it is quite a small beach if you get blown down wind a bit. When it is working it has a good wave but if the swell is over 4 ft (1.2m) you can get affected by a rip.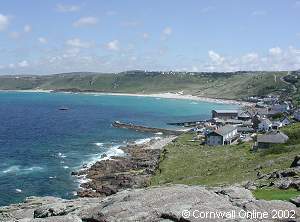 Sennen Cove, Gwynver - Open to the full force of the Atlantic there is usually some form of swell present here, even if everywhere else is flat. In a NE wind it is best sailed at low to mid tide and can provide some excellent port tack wave sailing. Parking can be pretty scarce in the tourist season and it is a bit of a hike down to the beach with your kit but it is worth a look as long as the swell is not too big.
Marazion - There are two places to park in front of St Michael's Mount. You can use either the more popular Station car park next to the cafe and the Station House Inn or you can nip along the bay towards Penzance and park across the level crossing at Long Rock. This bay can provide sailing for all abilities from flat water beginners on long boards through to good wave-sailing when a southerly swell is running. It is a location which can work in just about any wind direction save NE and sometimes N. It is best in a W laying on cross shore conditions although SW or WSW can bring in swells of up to mast high. NW can provide some excellent slalom sailing with good clean wind and flat water. Be aware that the imposing St Michael's Mount also throws up quite a wind shadow in an E and SE wind. Try to avoid the gear-trashing shore dump at high tide. It is certainly powerful, but once the tide drops below the steep shingly bit of the beach the waves become a lot softer and it offers a great introduction to starting in waves. Long Rock will be a better bet if it is a little too onshore at the Station House car park. It provides a more sheltered launching spot if the wind is fickle and the swell is large or if it is getting closer to high tide. Do watch out for the rocky peninsula leading out to the prominent black mast in front of Long Rock as this can be covered towards high tide. It is generally best to head towards the Mount on your first run out from the beach if you have not already seen where the rocks are at low tide.
SOUTH COAST
Praa Sands - A ten minute drive from Penzance towards Helston along the A394 will bring you to Praa Sands. This location provides excellent cross shore wave sailing in WNW or E or SE. Be aware that the winds can be quite gusty here with a very strong powerful wave and the traditional severe shore dump at high tide. It is also a bit of a hike down to the water's edge with your kit.
Porthleven - This small village has one of the most devastating waves to be seen around the Cornish Coast line which breaks very fast over a shallow reef in front of the harbour wall. This is a spot only for the best and extremely expert big wave sailor. Before you even consider this location seriously check your health insurance, kit insurance and take time out to watch the surfers and bodyboarders. You will soon understand why every year freak waves catch people unawares on the sea wall and take them out to sea. If you get it wrong here the consequences are dire and at best you would have a long swim down the coast.
The Helford - At the top of the Lizard on the East coast is the beautiful Helford Passage. This creek is great for beginners and intermediates to learn, improve and hone their skills in relative security. Windsurfers should watch out for other water users as it is very popular with the cruising and small sailing enthusiasts and also with many powered craft. There are plenty of moored boats to cope with. Many are in front of the Ferryboat Inn, a very popular launching spot. Durgan beach is a slightly less crowded spot but does involve a short walk down to the beach from the road and parking in summer can be scarce. With the creek lying E/W these winds are obviously the most consistent and most other wind directions will result in gusty, messy winds to keep windsurfers on their toes.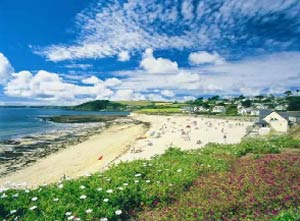 Falmouth, Gyllingvase - On the sea front of the famous harbour town of Falmouth lies the south easterly facing beach of Gyllingvase. Parking is plentiful, fairly close to the beach with a small grassy park to rig up in directly behind it. It is another great introductory south coast wave spot ideal for intermediate short boarders looking to hone their skills in more bumpy conditions. Gyllingvase will be at its best if there is a big southerly swell. Much of the force of it will be taken out by the Lizard Peninsula but with a SW wind, it can lay on good cross shore starboard jumping conditions. The beach can- also work well in winds from the SE and possibly E and can provide plenty of scope for intermediates looking for a bit of bump and jump and slalom blasting. The winds on the inside can sometimes be a little gusty and at high tide the shore break is best avoided if there is much of a swell running.
Carrick Roads - Falmouth Harbour is the world's third largest natural harbour and offers plenty to windsurfers from complete beginners to the accomplished short boarder. This beautiful myriad of creeks and inlets offers a wonderfully safe yet massive expanse of water to play in. Considering the size of the water, launching sites are not that plentiful but the three main ones allow you to sail in any wind direction you choose and any state of the tide. There are also few real hazards in terms of currents and waves to catch the less experienced sailors out as long as common sense is used.
Loe Beach at Feock, is just 10 minutes from the capital of Cornwall, Truro and is situated on the northern shore of the Carrick Roads. It is a great spot to sail from with convenient parking right on the beach, and provides plenty of flat water sailing with usable wind directions of SW, S, SE and E. Be aware there are plenty of boats moored off here to avoid in Summer and give the bathing area plenty of room when launching.
Nearer to Falmouth, Mylor Yacht Harbour is another excellent beach offering good flat water sailing. If you drive past Mylor Church and continue along to Restronguet Sailing Club you can drop your gear off here on the beach. Make sure you park your car either back in the dockyard complex or up the hill, past the church otherwise you could find it towed away or the tide could come in and cut you off, leaving you with a rather damp vehicle. This beach being central to the Carrick Roads works in almost every wind direction except westerly which is offshore and tends to be very gusty. At low tide the water becomes fairly shallow, if a bit muddy but it is a great spot for practising waterstarting and other short board improving manoeuvres. It is also an ideal spot for setting out on a long board to cruise around various creeks and inlets of the Fal. Check out the Windsport Centre based here for lessons to help you on your way.
St Mawes - The final launching spot for the Carrick Roads or Fal Estuary is a little more exposed. Take the A3078 down to St Mawes from the St Austell - Truro Road and head towards the picturesque castle. When you arrive you need to park in the field just below the castle looking across to Pendennis Castle and Falmouth on the other side. This spot is great for the slightly more intermediate sailor as the launch site is quite a narrow beach bordered by rocks. If you walk over to the left hand corner of the field there is a path taking you down to the beach. This spot works really well in wind directions from the W, N and NW, and also from the SW and S. Be aware there is quite a lot more commercial traffic here as ships arrive and leave the busy Falmouth ship yard. There are also many ferries and fishing craft going in and out together with a multitude of pleasure craft which befits one of the best cruising areas in the world. This is not a major warning as there is generally plenty of water for everyone but keep your eyes open. If there is a big southerly swell running some exciting short board sailing can be had around Black Rock at the entrance to the estuary.
Pendower - Just around the corner from St Mawes are Pendower and Carne Beaches. Pendower Beach is easily accessed via Veryan through a small National Trust Car Park at the back of small dunes bordering the quaint Pendower Hotel. There is plenty of grass to rig up on in the car park or plenty of space on the beach if you want to carry your kit the short distance. In lighter airs it is a great place to go long board cruising or out on a slalom board if the wind is from the SW, S or SE. At mid tide there is a reasonably strong tidal flow along the beach but at slack water it is much more manageable, If, however, the wind is blowing strongly from the E and there is a bit of a swell running from the south, a few of the local wave sailors "in the know" head here to catch the low tide as it changes. It can provide good down the line wavesailing.
Carne - At low tide this is almost the same beach as Pendower but further east it is just a bit more sheltered from the Nare Headland. There is also parking directly across the road from the beach. The beach works best in a W, SW or SE direction giving good bump and jump style coastal sailing, and generally not quite as extreme as Pendower.
Lakes and Reserviours
Stithians Lake - Redruth - is situated deep in the heart of Cornwall, only three miles from Redruth and 7 miles from Falmouth, and is best reached off the A30 through Redruth. It provides some of the most exciting windsurfing in the country. Although it is only 1 70m above sea level, the 270 acre lake is one of the windiest places in England and the prevailing south westerly winds blow cross shore, providing superb sailing for improvers and experts.
Stithians is not just for the experienced sailor, however, and the Centre provides tuition by qualified instructors in windsurfing, sailing and canoeing.
As at the other centres there is an extensive array of equipment available for hire to suit all levels of ability and there is rescue boat cover during the day. There is plenty of car parking space and a large lakeside area for rigging and launching. Showers and changing facilities are available.
EAST COAST
Pentewan Sands - Just south of St Austell on the Mevagissey road is this long east facing beach which is popular with beginners and experts alike. There is an excellent camp site directly behind the beach and it has been the successful location for many national and international windsurfing events with the local sailing club here proving very popular and sociable hosts. It is good in many wind directions although anything with west in it is offshore. NE and SSE are good directions for this spot but watch out if there is an easterly or big southerly swell as it can create an unpleasant kit-munching shore break. Beware of the winds on the extreme sides of the beach as it can be a little fluky under the cliffs.
Par - Situated between Fowey and St Austell, this beach offers good windsurfing in WSW winds at high tide. At low tide it is still sailable but be warned, there is quite a long walk over the sandy beach to reach the water. This gentle beach can be a good spot for windsurfers looking for nice soft swells.
Looe, Hannafore Point - If you are looking for a spot in East Cornwall, drive round West Looe on Marine Drive to the seafront and park in front of the Coast Guard Station. The ideal time to launch is one and half hours either side of high tide when you get a clean run out to sea from the beach towards Looe Island. At low tide a maze of rocks is uncovered but if you follow the sandy gully down to the uncovered wreck it gives you easy access into clear water. Beware at high spring tide - the water comes right up to the sea wall restricting launch. The best wind direction is definitely from the SW but it can also be sailed if the wind is from either the S or W.
Millendreath - Another south coast beach offering a wde range of sailing conditions for all levels of ability. Conditions are best at low to mid tide and can be a great spot for heading out into Looe Bay for a bit of cruising. Beware of other beach users especially at the height of tourist season as it can be pretty crowded.
Seaton - If the wind is from the E or SE and you are in East Cornwall then check this spot out. The conditions here do vary with the tide and it is best to avoid this venue if the tide is high and there is a swell running. The shore break can be pretty devastating, breaking into the sea wall to the left and dumping onto the beach on the right. Up to high tide you rig up on the grassy area in front of the beach and if the wind is fresh you will be able to get some port tack jumping on the well formed ramps.