The Lodge Fowey - Suspended page
Self Catering Accommodation in Fowey
Sleeps 4/5
this page advertised self-catering holidays from November 2010 until 2014 in a charming newly restored two bed roomed wooden lodge, nestled on the edge of woodland and overlooking tidal creek off the river Fowey.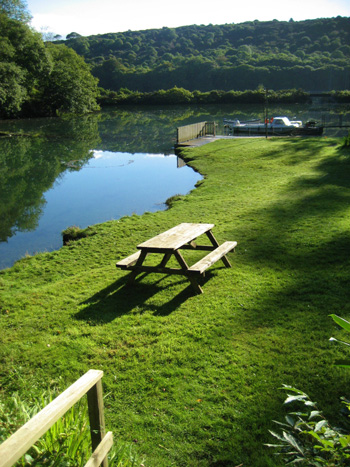 Access is by boat or footpath.
With central heating and a wood burning stove, the lodge is a delightfully cosy hideaway any time of year.
The lounge and kitchen over look the Sawmills creek, the Kitchen is fully equipped with dishwasher, microwave, fridge freezer, gas hob and electric oven. The Lounge has leather sofa, woodburning stove flat screen TV and DVD
Attractive fully tiled bathroom with walk in shower.
Two bedrooms, one with double bed and the second with full size bunk beds.
There is a laundry room with washing machine and dryer situated at the back of the main house.
We include boat transfer from Golant and we can arrange boat hire should you wish to be able to travel by boat for the rest of your stay, alternatively a 10-15 minute walk with panoramic views of the River Fowey takes you from Sawmills into Golant, where cars can be left in our parking bays