To access your updating page, click on the logo which is located at the very bottom of your Cornwall Online Advert page, adjacent to your page counter. You will need to enter your username and password which is shown above.
The logon page will open
Enter your Username and Password
USERNAME: ****
PASSWORD: ****
This will take you to the main calendar
The best method is work through the calendar on a week by week basis;
using the "Book reservations Icon" and to add any existing bookings ( remember to click the morning/afternoon only boxes).
And the "Prices Icon" to add available weeks and the cost.
As bookings come in from the system, we always recommend Printing the reservation or transferring it to a Diary, so that you always have a written record available
To enter weeks booked outside of the calendar:
Click the Book reservations icon
Enter all necessary details here, along with checking the two boxes after the start and end dates (only afternoon and only morning). This will allow you to then start/end another booking on the same days!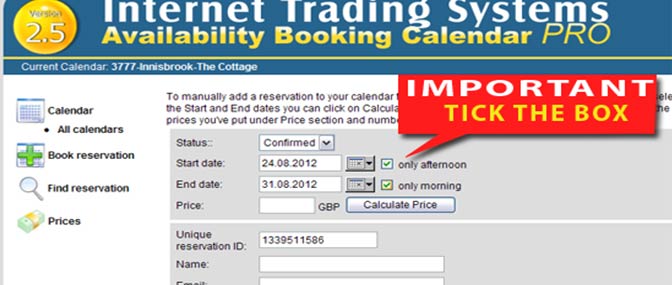 To add an Available Week to the system
As an example to set up Saturday 19 th November at £345 for the week
1. Click on the Prices button
2. Set the Start date to 19th November
3. set the End Date to the 26 November
4. enter the price.
5. Click the save button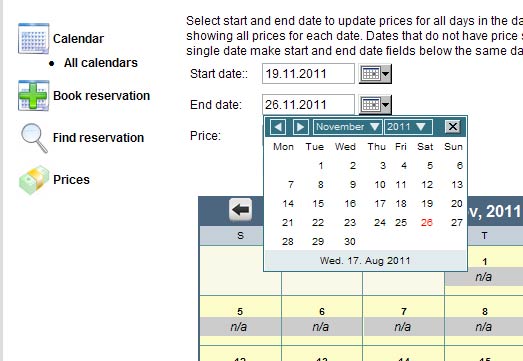 This will change the display to

with the price for the week shown on each day To Check on reservations Click the Find reservations icon.
This will show you a list of bookings that have been made Click the right hand page icon to view /edit the reservation i.e changes from "pending" to "confirmed".