Our 'Lifeboat Suite' above the Boathouse is perfect for a family or a group of friends.
The Restaurant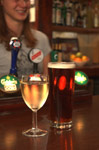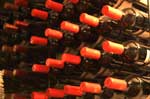 The Restarant, is built on two levels with slate pillars and huge oak beams. The gallery has recently been restored to its original form and occupies three sides of what was the old cellar, whilst the ground level was, within living memory, a ships' chandlery. There is also a terrace at the front of the hotel where customers are able to enjoy a meal or a drink overlooking the harbour.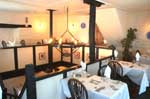 Much appreciated by locals and regular visitors to the area, The Slipway's Restaurant has established its own unique reputation for the quality and value of its range of seafood's
The Slipway is an ideal base for visiting the whole of Cornwall particularly the North Coast and the Padstow and Rock areas so beloved by Sir John Betjeman.
Discover this part of Cornwall in the spring and autumn for a getaway break or your main holiday. Cornwall enjoys a mild climate for most of the year, that brings the early flowers to the hedgerows and lanes, the coastal path and the many gardens at the National Trust Properties in the area.
The Camel estuary and our shoreline is often a stopping off point for visiting birds taking a rest before continuing their journey. The Camel estuary also offers you a range of watersports and other activities such as golf, the long sandy beaches and the coastal path are ideal for walking and enjoying the stunning sunsets.
The roads during the school term time are relatively quiet and access to all parts of the county is usually very good. The much improved road network from London and the Midlands means you can be enjoying a getaway break in around 4 hours, at any time of year, Bristol is even less only 2 hours. If you would like details of our getaway breaks give us a call now or e-mail us at slipway@portisaachotel.com