ST. KEW & NORTH CORNWALL
St. Kew is an ideal base from which to visit the Eden Project and then to explore and enjoy North Cornwall: during the rest of your holiday.
Within a short distance there is an immense variety of scenery; there are miles of unspoiled country and coastal scenery, much of it preserved by the National Trust. There are magnificent cliffs and secluded coves, fishing villages and rugged stretches of open moorland. Tintagel is 15 minutes drive to the North and the Eden Project is 30 minutes drive to the south.
The late Sir John Betjeman, Poet Laureate 1974-84, wrote of St Kew:
"A beautiful inland parish of sudden green hills, wooded valleys, old lanes to undisturbed hamlets, little manor houses and a grand church".
SKISDON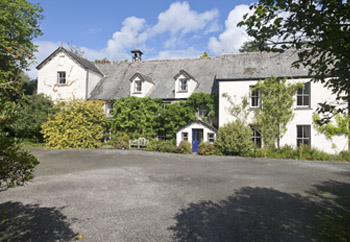 Ancient Driveway Bridge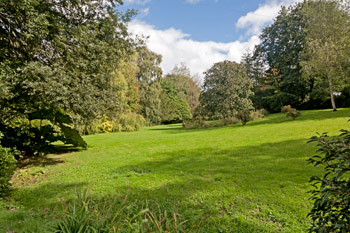 "Verdant Paddock" surrounded by fine Shrubberies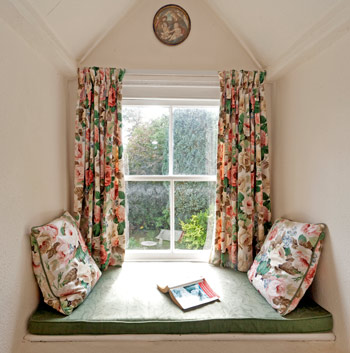 Rosemary Apartment - Window Seat
"Skisdon", is now a manor house was first mentioned in 1350 and is now Grade II listed. According to C. S Gilbert's observations in his - Historical Survey of Cornwall - published in 1820, he described Skisdon as being -situated in a verdant paddock and surrounded with fine shrubberies, walks and gardens.--Nothing has really changed in nearly 180 years!
Skisdon was a favourite home in the 1860's of Mary Elizabeth Braddon- Sensational novelist of 'Lady Audleys Secret' and many other novels. Two streams meet within the garden which is surrounded by pasture and woodland. Children find "Skisdon" a paradise and adults find inspiration and a truly restful environment. Several areas in the grounds have been set aside with a picnic table and charcoal grill.
The village Inn is approximately 150 metres away and boasts good food and service, families are welcome.The owner can reserve a table in advance for your first or second evening meal. One mile distant is St Kew Highway, with extensive supermarket, petrol station and post office.
St Kew is just 4 miles from the North Cornwall coastline and similar distance to the heart of Bodmin Moor, whilst Wadebridge 5 miles south has delightful shops and restaurants.
The North Cornish coast here is spectacular. Polzeath, popular for its great expanse of sand and fascinating rock pools, is also a superb surfing beach. The beautiful Camel Estuary has wide expanses of clean sand, salt marsh and dunes; great for bird-watching, walking and all kinds of watersports including sailing, water-skiing and sail-boarding. Daymer Bay is particularly popular with the high wind/wave-jumping enthusiasts among the latter. It was here at Trebetherick and Daymer Beach, that John Betjeman spent his childhood holidays and eventually had his home.
'Then before breakfast, down toward the sea I ran alone,
monarch miles of sand'
He is laid to rest in St. Enodoc churchyard on the golf course overlooking the estuary
Sea-fishing trips, including shark fishing, can be arranged from Rock or Padstow. Fishing from rocks and headlands is also very popular and a variety of fresh-water fishing is available, in rivers and reservoirs. The Camel Trail for cycling and walking goes from Bodmin to Wadebridge and on to Padstow, cycles are available for hire from Nigel Wiggett at the Original Bridge bike Hire in Wadebridge, also available locally is pony-trekking, squash and tennis; there are a large number of very good local golf courses, some long established St. Enodoc and Trevose, plus St. Kew, Roserrow, Lanhydrock and Camelford.
Port Isaac, Port Gaverne and Port Quin are all within a couple of miles of each other and strollers will find some "not too" strenuous walks around the Rumps, Lundy Bay and Doyden Point. Wild flowers and fauna. seascapes (sometimes dramatic), golden sands and tranquillity. North Cornwall has them all.
Take care on our cliff paths and always respect the sea.
You will be rewarded.
Directions
To Find Skisdon, travelling from outside the county on the A30, take the A395 signed North Cornwall and Camelford, at its junction with the A39 turn left on to the A39 Camel ford/Wadebridge road, for about 10 miles and take the turning by the small chapel, about half a mile west of St. Kew Highway Travel north for nearly a mile and turn right just beyond a row of cottages on your right; continue following the lane for a quarter of a mile and, immediately beyond a junction where two lanes join from the right, you will see the entrance to 'Skisdon'. Also on your right further on, just over the bridge, is the ancient village church and the St. Kew Inn.