Gurnard's Head, Morvah, Pendeen
Leaving the Gurnard's Head, on the left are Carn Galvor, Hannibal's Carn and Watchcroft, the highest hill in West Penwith. Continuing along a winding road between the now familiar stone hedges the nature-lover may spot any number of unfamiliar migratory birds whose first port of call is the jutting peninsula, be charmed by exotic-looking chickens strutting their stuff in the middle of the road or encounter an outraged dog snapping at the wheels of the car in protest. Badgers in this region are a not uncommon sight at dusk, together with a wide variety of smaller nocturnal creatures regularly caught in the headlights.
A little further on is the climbing school beside the ruins of Carn Galvor Mine and if climbing seems like too strenuous a pastime it is well worth stopping here just to enjoy the view or to take a walk along the cliff top path, if only to marvel at the Mediterranean hue of the sea.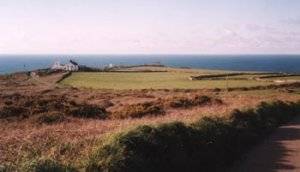 Many an artist has been drawn to this area over the years, both by its outstanding beauty and by the extraordinary quality of the light. D.H. Lawrence stayed in a small hamlet along this road with Frieda during the first world war, only to be driven out by accusations of flashing messages to enemy ships. An unfortunate historical incident that probably says more about local paranoia than about the veracity of the accusation but wars are prone to create such instances of misunderstanding through fear, so the less said about it the better. A little further along was, until very recently, the home of the internationally renowned artist Patrick Heron (now,sadly, deceased) while the Newlyn Art Gallery and St Ives Tate attract artistic attention from far and wide. The Bernard Leach legacy has attracted any number of potters to the surrounds of St Ives, providing a comprehensive choice of widely varying ceramic art, some of which reflecting the unique nature and quality of the surroundings.
On through the tiny hamlet of Morvah, which can easily be overlooked. Curving in a horseshoe off the main road this was once a bustling mining village with a number of shops but is now solely residential except for a 'board' school and a recently opened gallery, however both merit the small detour. A short distance further on, through the equally tinyt hamlet of Bojewyan, is the former mining village of Pendeen, which is of sufficient interest to spend a little time exploring.