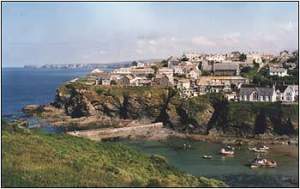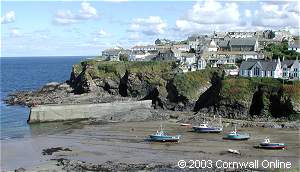 Other Towns in the Local Area:
Newquay | Padstow |Wadebridge
Polzeath & Rock | Tintagel | Boscastle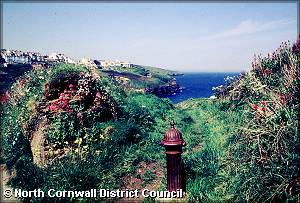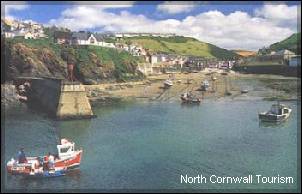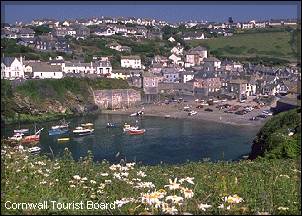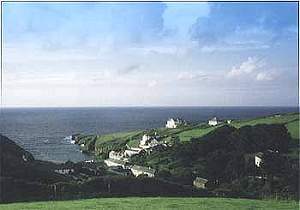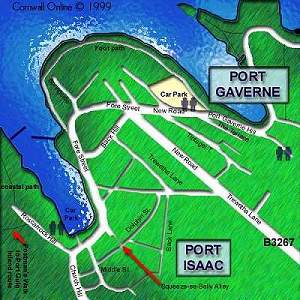 Welcome to Port Isaac we have prepared this guide to help you plan your visit or holiday and once here, to make the most of your stay in choosing where to eat or shop and what to do both in the village and surrounding area.
The Sister Ports: Port Isaac, with Port Gaverne, are totally surrounded by open countryside and lie in an Area of Outstanding Natural Beauty and a Heritage Coast Area. The character of the old fishing village conservation area and its setting, is the subject of many planning and development constraints.
What to do
Every day including summer Sundays Western National buses run between Bude and Newquay - via Boscastle, Tintagel, Port Isaac, Trelights, Polzeath, Rock, Wadebridge and Padstow - and connections further afield.
For coast path walks, there are several convenient points at which to alight. You can walk the coast path in short sections by driving to a car park, taking the bus and returning to your car on foot.
One of the best surfing beaches in North Cornwall is Polzeath 4 miles away. Dogs are not permitted on this beach from April to September, but the adjacent, wide beach of Daymer Bay (5 miles) has excellent, fine sand and is available to families and pets.
There are gardens to visit at Long Cross Victorian Gardens at Trelights, Pencarrow at Washaway near Wadebridge (12 miles) and National Trust Lanhydrock (15 miles).
In the season you can book fishing or scenic trips from Port Isaac harbour. Homer Park, advertised in this Guide, at the top of the hill behind Port Isaac, offers horse-riding.
There are good opportunities for cycling along the Camel Trail - Padstow - Wadebridge - Bodmin - and cycles can be hired.
The nearest golf course is at St. Kew, and there is an 18 hole course at Bowood near Camelford. There are also two well known golf courses - the classic St Enodoc (5 miles) and Trevose (15 miles).
For leisure centres, there are Camelford Sports Centre (8 miles), Wadebridge Sports Centre (10 miles) and the Bodmin Leisure Centre (15 miles).
Two steam railways in the area are the Bodmin Steam Railway - standard gauge - (15 miles) and the Launceston Steam Railway - narrow gauge - (20 miles).
About the District
North Cornwall is the coast edge of Bodmin Moor with high, rocky cliffs. The whole area is very hilly with deep valleys where little streams run down to the sea. Port Isaac and Port Gaverne are in two of these valleys - two separate communities. History Stone, ores, limestone, salt and heavy commodities were shipped and trans-shipped in Port Isaac's little harbour until the 19th. century. Then new ships, too large to be able to visit Port Isaac were being used to trade further overseas. The railway and the motor lorry finally ended the coastal trade and at the start of the 20th. century.
Port Isaac became a holiday village. The name could mean 'The Corn Port' (yzack = corn). In 1340 it was registered as a fishing village. It was a sheltered harbour on an otherwise inhospitable coastline.
Visitors receive much attention but Port Isaac has not become a 'tourist trap' and has most of its original character. It is frequently used as a 'set' for filming the Poldark series and 'Nightmare Man' where it was beautifully depicted albeit as a village in the Hebrides! More recently the story 'Amy Foster' was filmed in the village.
Unspoiled Port Gaverne Slate from Delabole quarry was loaded here into the heavy sailing sea ketches which were broad enough to rest upright on the beach between tides. This is now a peaceful spot with little commercialisation. Port Quin the neighbouring village was abandoned on two occasions, once when all the men were drowned at sea and again when the pilchards failed. It is now a quiet, peaceful place with no shops - not even a tea room!
Port Gaverne
Neighbouring Port Gaverne developed in the nineteenth century as a slate, coal, limestone handling port where shipbuilding also took place - the large buildings have all been converted into holiday accommodation. At low tide there is small, sheltered, sandy beach with an abundance of rock pools which is probably the safest beach in North Cornwall for small children.