Falmouth - Holiday Cottages, B&B, Holiday Apartments.
Holiday Home Rental Accommodation in Falmouth.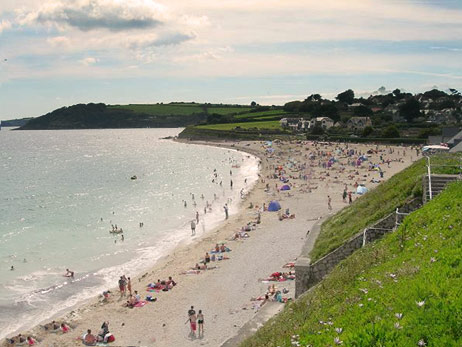 In this cost conscious climate, Camping is growing in popularity many holiday parks in Cornwall offer camping and touring pitches so whether you have a tent, caravan or motor-home you can enjoy a stunning holiday in Cornwall at a fantastic location with great facilities in Cornwall within easy reach of Falmouth.
B&B and B&B Farm Stays in the Falmouth and Helford area are a popular way of exploring this part of Cornwall. With the beautiful Lizard peninsula and the Fal Estuary on you doorstep, a Falmouth bed and breakfast stay allows you to explore the area from a base located at the heart of this stunning region - often an ideal way to make an initial trip to Falmouth and the surrounding area
Falmouth is a very popular Cornish holiday destination, located at the mouth of the Fal estuary - the third largest natural harbour in the world.
Falmouth lies between the beautiful Helford Estuary area of the Lizard Peninsula and the Roseland Peninsula - with St Mawes just a ferry ride across the estuary. It is an ideal holiday location, with easy access to some of the most stunning beaches and holiday destinations in Cornwall. Falmouth is steeped in Maritime history, and is the home of the National Maritime Museum Cornwall. The town is a busy maritime centre, with marinas and moorings along the length of the river Fal.
Falmouth's strategic location led to the placement of Pendennis castle on the headland, guarding the entrance to the port - the castle and its sister castle - St Mawes on the opposite bank, where part of Henry VIII coastal defence scheme.
Pendennis Castle is a fascinating insight into the history of the region and the role that Falmouth played during WWII. From Falmouth you can take boat trips across the estuary to St Mawes, or explore the busy little town. Falmouth is a regular host of sailing events such as the Henri Lloyd Falmouth Week and the Pendennis Cup.
Holiday Cottages and Self-catering holiday Apartments and Caravan breaks in Falmouth provide the perfect location from which to enjoy and explore the sights and sounds that Cornwall has to offer. There are many picturesque waterside villages to visit up and down the estuary - with pleasure cruises regularly leaving the town quay and harbour Falmouth also has four beautiful beaches. Including the family beach at Gyllyngvase, where you can enjoy a traditional day at the beach.
Falmouth is surrounded by Areas of Outstanding Natural Beauty (AONBs) and has easy access along the Helford and Fal Rivers and Roseland Peninsula the town is located on South West Coast Path, so it is a major attraction for walkers as well as holiday makers and sailors.

Our holiday home rental, Holiday Cottage rental and Self catering accommodation near to Falmouth are ideal for families who need the flexibility that a self-catering break can offer, allowing you to enjoy your holiday break at a pace that suites you. Self catering holidays in Cornwall give you easy access to Cornwall's attractions, coastline and countryside.

Cornwall Online Offer a variety of self catering accommodation ( Caravans, Holiday Cottages, Campsites and Holiday Apartments) close to Falmouth. In this region of Cornwall, Holiday cottages and barn conversions are very popular choices for holiday stays, offering a subtle blend of period charm and original features with modern comforts. Families with children and active youngsters often choose to stay at one of our listed holiday parks or Caravan sites, as they often have a range of activities, swimming pools, play areas etc. included on site.
Cornwall Online has 12 Featured Holiday accommodation, Holiday Rental and B&B properties this area

En-Suite Bed & Breakfast (B&B) Holiday Stays in St Keverne


Sleeps: 8 max.
Location: St Keverne
Nearest Beach: 1-3 miles

Online Availability
Parking Available
Internet Access
En-Suite Facilities


---

Tel: 01326 280986

Click Here for more
information


---

Prices from £47.5 to £80

Quality in Tourism / Visit England 4 star Silver Award

Old Temperance House, in St Keverne Square, is a lovingly renovated, Period Village House. For B & B, we have 4 En Suite Bedrooms (weekly rates available), plus a pretty Self Catering Cottage sleeping 3.

Portscatho Self-catering Holiday rental with Sea Views.


Sleeps: 6 max.
Suitable for Large Groups
Location: Portscatho
Nearest Beach: 0-1 mile

Credit/Debit Cards Accepted
Pets Welcome
Parking Available
Internet Access
Sea Views
En-Suite Facilities
Swimming Pool


---

Tel: 01872 580289

Click Here for more
information


---

Changeover Day = Mon,Thur,Fri,Sat

Quality in Tourism/Visit England 3 and 4 star

Holidays in Portscatho with the benefit of an onsite swimming pool - to help you enjoy your Holiday in Cornwall. Trewince, a family run business for over 30 years and with a personal touch is an oasis of beauty and calm within its acres of park and woodland. Near to the villages of Portscatho, Gerrans and St Mawes. Close to tranquil beaches, secluded coves and beautiful countryside with spectacular views where you really can get away from the stresses of every day life.

At Trewince Holiday Lodges in Portscatho Pets are Welcome - Dog friendly establishment.

Breage, nr. Helston Self-catering Holiday rental


Sleeps: 2 max.
Location: Breage, nr. Helston
Nearest Beach: 1-3 miles

Online Availability
Pets Welcome
Parking Available
Internet Access
En-Suite Facilities


---

Tel:

Click Here for more
information


---

Changeover Day = Fri

Helston, on the Lizard Peninsula, is ideally located for exploring South West Cornwall. A delightfully restored stone building that is secluded and cosy in its countryside setting -located at the end of a country lane, the views over Tregonning Hill are lovely and the entire property is secluded and peaceful. Sleeps 2 people ( Pets: one dog by arrangement)

At Little Tolmennor Barn in Breage, nr. Helston Pets are Welcome - Dog friendly establishment.

Falmouth Self-catering Holiday rental with Sea Views.


Changeover Day = Sat

Prices from £400 to £690

Luxurious waterside apartment. Superb position overlooking the harbour, ideal for town and beaches. Sailing facilities nearby. Sleeps 2. Furnished to a high standard. Private parking with two adjacent car parking spaces available in a gated garage

Falmouth Self-catering Holiday Cottage rental with Sea Views.


Sleeps: 10+ max.
Suitable for Large Groups
Location: Falmouth
Nearest Beach: 0-1 mile

Online Availability
Pets Welcome
Parking Available
Internet Access
Sea Views
Swimming Pool


---

Tel: 07717 000040

Click Here for more
information


---

Changeover Day = Sat + Sun

Prices from £295 to £3995

Holidays in Falmouth with the benefit of an onsite swimming pool - to help you enjoy your Holiday in Cornwall. Flushing Holiday Cottages offer a choice of self catering cottages in the pretty village of Flushing. Our character cottages are carefully chosen to ensure your accommodation is of the highest standard, all houses have WiFi, well equipped kitchens, comfortable beds and most have wood-burners. The village has a choice of pubs, a shop and a fabulous seafood restaurant and is extremely dog-friendly.

At Flushing Holiday Cottages in Falmouth Pets are Welcome - Dog friendly establishment.

St Keverne Self-catering Holiday Cottage rental


Sleeps: 3 max.
Location: St Keverne
Nearest Beach: 0-1 mile

Online Availability
Pets Welcome
Parking Available
Internet Access


---

Tel: 01326 280986

Click Here for more
information


---

Changeover Day = Sat

Prices from £390 to £575

Visit Britain 4 star

Detached 2 bedroom Holiday Home in the thriving village of St Keverne - a period property with wood burning stove and central heating. 1 Double and 1 single bedrooms. Appointed to a high standard the cottage is as private as you want, but Kevin and Claire - the owners are close by for any help you may need. There is a BBQ in the courtyard.

At Ginentonic Holiday Cottage in St Keverne Pets are Welcome - Dog friendly establishment.

Truro Self-catering Holiday Cottage rental


Sleeps: 4 max.
Location: Truro
Nearest Beach: 3-10 miles

Online Availability
Parking Available
Internet Access


---

Tel: 01872 863214

Click Here for more
information


---

Prices from £280 to £800

Visit England / Quality in Tourism 4 & 5 star

Two delightful self-catering holiday cottages, each sleeping 4/5. Situated in the perfect location for exploring Cornwalls countryside, gardens, coasts, sailing waters and cycle trails. Beautiful rural setting on a Cornish working farm. Large enclosed garden, private parking

Cadgwith, Helston Self-catering Holiday rental with Sea Views.


Sleeps: 6 max.
Location: Cadgwith, Helston
Nearest Beach: 0-1 mile

Online Availability
Pets Welcome
Parking Available
Internet Access
Sea Views
En-Suite Facilities


---

Tel: 07885 756 696

Click Here for more
information


---

Changeover Day = Fri

Prices from £523 to £1643

Spinnaker Holiday home sleeping 6 people with wonderful sea views , looking out across the pretty village of Cadgwith and out to sea. There is always something to watch be it the fishing boats, the large ships further out or the flocks of sea birds-3 bedrooms, 1 double, 1 twin and 1 ground floor twin with ensuite.

At Spinnaker in Cadgwith, Helston Pets are Welcome - Dog friendly establishment.

Falmouth Self-catering Holiday rental with Sea Views.


Sleeps: 10+ max.
Location: Falmouth
Nearest Beach: 0-1 mile

Online Availability
Pets Welcome
Parking Available
Internet Access
Sea Views
Swimming Pool


---

Tel: 07717 000040

Click Here for more
information


---

Changeover Day = Sat + Sun

Prices from £295 to £3995

Holidays in Falmouth with the benefit of an onsite swimming pool - to help you enjoy your Holiday in Cornwall. Falmouth Holiday Homes offer a wide range of luxury self catering retreats, ranging from modern apartments right on the Pier, pretty seaside cottages and loftstyle apartments right up to sprawling mansions with swimming pools and direct beach access. We welcome dogs in many properties, provide all linen and towels and supply highchairs and travel cots.

At Falmouth Holiday Homes in Falmouth Pets are Welcome - Dog friendly establishment.

cornwall Self-catering Holiday Cottage rental with Sea Views.


Sleeps: 10+ max.
Suitable for Large Groups
Location: cornwall
Nearest Beach: 0-1 mile

Online Availability
Parking Available
Internet Access
Sea Views


---

Tel: 01428 723819

Click Here for more
information


---

Holidays Cottages on the cornish Coast - enjoy a break in a stunning Cornish coastal location - explore the beautiful beaches and coves of the Cornish Coast

based in Porthleven Self-catering Holiday rental with Sea Views.


Sleeps: 10+ max.
Suitable for Large Groups
Location: based in Porthleven
Nearest Beach: 0-1 mile

Online Availability
Pets Welcome
Parking Available
Internet Access
Sea Views
En-Suite Facilities


---

Tel: 01326 741090

Click Here for more
information


---

Prices from £440 to £1000

Coastal Holiday Cottages in Cornwall - Simply Sea Views has a range of holiday cottages From cosy fishermens cottages overlooking bustling harbours to contemporary retreats set over golden Cornish beaches. Holiday cottages sleeping 4, 5, 6 and 10 people

At Simply Sea Views in based in Porthleven Pets are Welcome - Dog friendly establishment.

En-Suite Bed & Breakfast (B&B) Holiday Stays in Falmouth with Sea Views.


Location: Falmouth
Nearest Beach: 0-1 mile

Credit/Debit Cards Accepted
Parking Available
Internet Access
Sea Views
En-Suite Facilities
Bar


---

Tel: 01326 311454

Click Here for more
information


---

AA, CTB member,, SWT, FHA AA 4 star

With stunning sea views over Falmouth Bay and situated opposite Gyllyngvase Beach this charming Bed and breakfast has bar and sun terrace.Car Park on site

Promoting your business on Cornwall Online
Copyright ©1994 - - Disclaimer E&OE
Cornwall Online is a trading name of ITS WEB DESIGN - COL DIRECT
Cornwall Online Website by ITS WEB DESIGN - COL DIRECT. Tel 01579 557343

Please ensure that you confirm all details with the Advertiser before Booking
We recommend that you take out Holiday Insurance on ALL Bookings