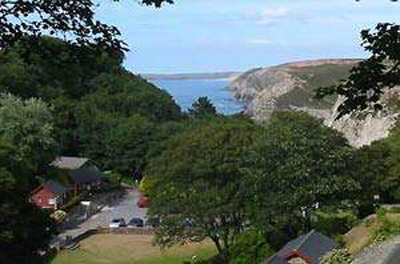 LITTLE ORCHARD VILLAGE
Rocky Lane
St. Agnes
Cornwall TR5 0NA
Tel: 01872 552441
or 01208 79608
between 7pm and 9pm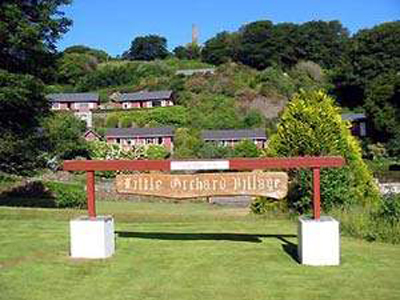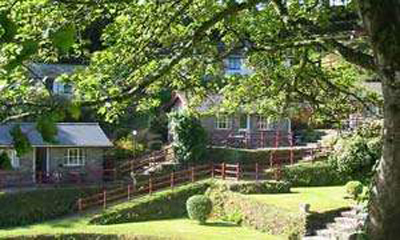 SELF-CATERING HOLIDAY CHALETS
Trevaunance Cove - St Agnes - Cornwall
Superb sea views and rolling countryside
of the spectacular North Coast
Peaceful, Relaxing Holidays

The Village has been created in a lovely terraced garden valley very close to Trevaunance Cove with its sheltered sandy beach - only 500m away. Various types and sizes of self catering holiday chalets have been carefully sited in picturesque terraced gardens to give a quiet, peaceful holiday.
The chalets are built either of local stone or timber and overlooking spacious lawns and numerous coloured shrubs.
The village is situated fifteen minutes - (walk) away from St Agnes with its fine old church and quaint old cottages, shops and streets.
Holiday Chalets Sleeping 2 to 7 people
Our holiday chalets are fully furnished for holiday residence. They are all electric ( £1 coin meters ) with refrigerator, cooker, fire and colour television. The kitchens are equipped with ample cooking utensils, cutlery and crockery. (all chalets also have an electric kettles and toasters.) Comfortable double beds and bunks with duvets and pillows. All have their own toilets, hot water and hand basin facilities; most have their own showers. There are free external hot showers available at all times for chalets without showers.

Please note - Duvet covers , pillowcases and towels are not provided.

Little Orchard Village has been filmed by the BBC.
The village has been built and run by the same family for over 50 years, and during that time we have learnt what their guests have come to expect.
If you are looking for a holiday with disco music, arcade games or bingo then Little Orchard is not for you. But if you want to fall asleep to the sound of the resident owl, and awakened by the dawn chorus then the village must definitely be your choice.