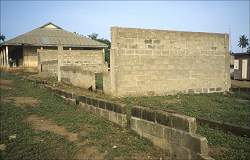 JSS Before in 2001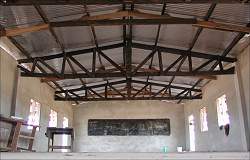 JSS After
Ghana Schools Project Update - January 2004
The good news is that all three stages of the Ghana Schools Project are now nearing completion.
There is no bad news!
In February 2004, Ian & Naomi will be returning to Ghana to see the Kindergarten project its current stage and assess the final touches.
To bring you up to speed, in January 2001, Jane (Ian's partner) a teacher at Liskeard School & Community College went out to Ghana to set up a link between St James' Junior Secondary School and Liskeard School & Community College. Since then the linking program has blossomed. Over the last three years we have seen a regular exchange of letters, joint curriculum exercises, the building of 3 classrooms and a new Kindergarten.