Family run, high quality, beachside self-catering apartments
High quality Victorian cottages, maisonettes and apartments in the prime Mount's Bay location of Marazion.

~ 50 yards from beach ~
Superb panoramic bay views of St Michael's Mount, Mousehole, Newlyn and Penzance.
Trevarthian House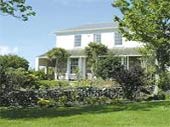 Flat 1. Sleeps 2-5
Flat 2. Sleeps 2-4
Flat 3. Sleeps 4-5
Flat 4. Sleeps 2-4
Flat 5. Sleeps 4-5
Flat 6. Sleeps 4-5
Flat 7. Sleeps 2-4
Flat 8. Sleeps 2-4
Flat 9. Sleeps 2
Flat 10. Sleeps 2-4
Flat 11. Sleeps 4
Flat 12. Sleeps 5
A selection of the finest self-catering accommodation available.
Some of Marazion's oldest buildings refurbished to a high standard, in a beautiful Grade II listed building containing a variety of individually unique apartments sleeping two to five people.
Two-minute walk to safe sandy beach, children's playground, village pubs, restaurants, galleries, shops, bus-routes for Lands End, St Ives, Penzance. Large private car-park (free), gardens.
Trevarthian House is a large Victorian Grade II listed buildings situated in its own separate grounds, with beautiful views of St. Michael's Mount and Mount's Bay.
Trevarthian House lies within 50 yards of the sandy beach and their architectural style, palm trees, gardens and beachside location offer a tranquil holiday setting in which to relax. The individual apartments vary in size and can sleep from two to five people. They are all self contained and refurbished to a very high standard. We have an office, free laundry and large private car park on site. There is also a bus stop 50 yards away.
There is a pay car park within 20 yards or guests can park for free at the Trevarthian House car park, which is two minutes walk away.
Free electricity, heating, linen, and TVs, DVDs/VCRs, cookers, fridges, microwaves in all accommodation. Free laundrette on site. Family owned and supervised to ensure high standards. Free colour brochure by request.

"Excellent accommodation. Well equipped, very clean, friendly welcome, peace and sunshine!" - Angela and Ron, Wellingborough.
"Another perfect holiday. Lovely flat, very comfortable, clean and tidy. Looking forward to next year" - Anne and Russ, Warwick
"Very impressed with the warm welcome, the beautiful location and this wonderful old house! Many thanks. We will return!", The Pallott family, Middlesex